If you do not have a RHB Reflex account yet, click on this link: https://www.rhbgroup.com/business/reflex/index.html. If you have RHB Reflex account already, you may skip this step.
In the page, scroll down to the bottom and click "find out more"


A modal dialog will popup, click on "Application Form" to apply for RHB Reflex account,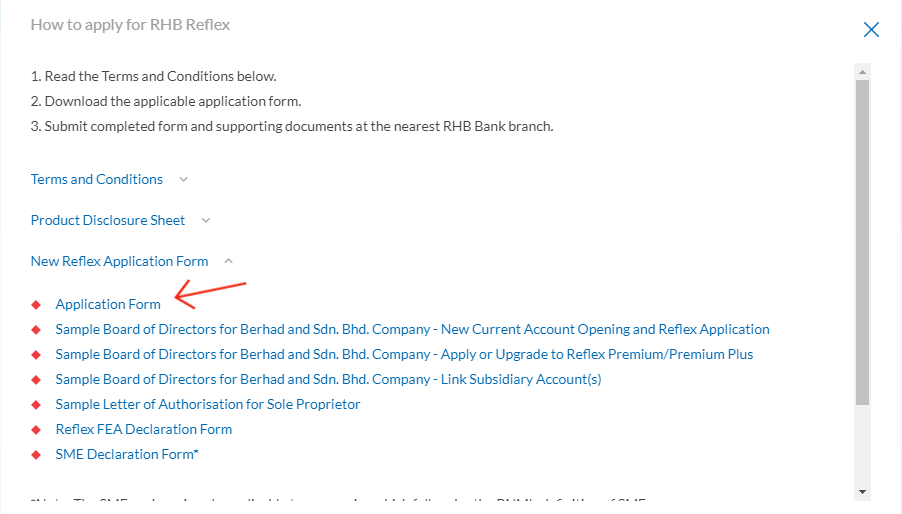 Before we proceed to configure in Kakitangan, we will need to gather a few information from RHB Reflex:
RHB Reflex Corporate ID (You can obtain this information from your Welcome Letter)
RHB Reflex Subsidiary ID
RHB Reflex Corporate ID
Obtaining your RHB Reflex Corporate ID (In your Welcome Email, you will have a PDF attachment which consist of your Corporate Details).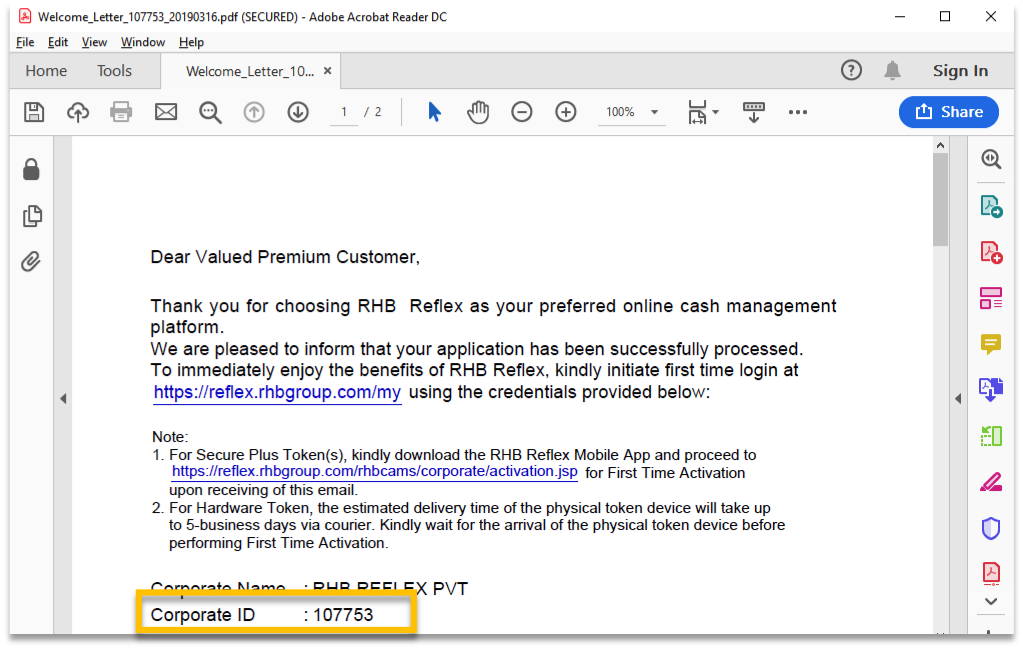 2.If you already have your RHB Reflex Corporate ID, you may skip this step.
RHB Reflex Subsidiary ID
Login RHB Reflex using your System Administrator 1 (sysadmin1).

2.Select "Corporate Back Office" under "Select Module", click "Continue".

3.Click on "Administrative" > "User Maintenance" > "Subsidiary/Department" > View/Modify.

4.You will be able to obtain your RHB Reflex Subsidiary ID from this module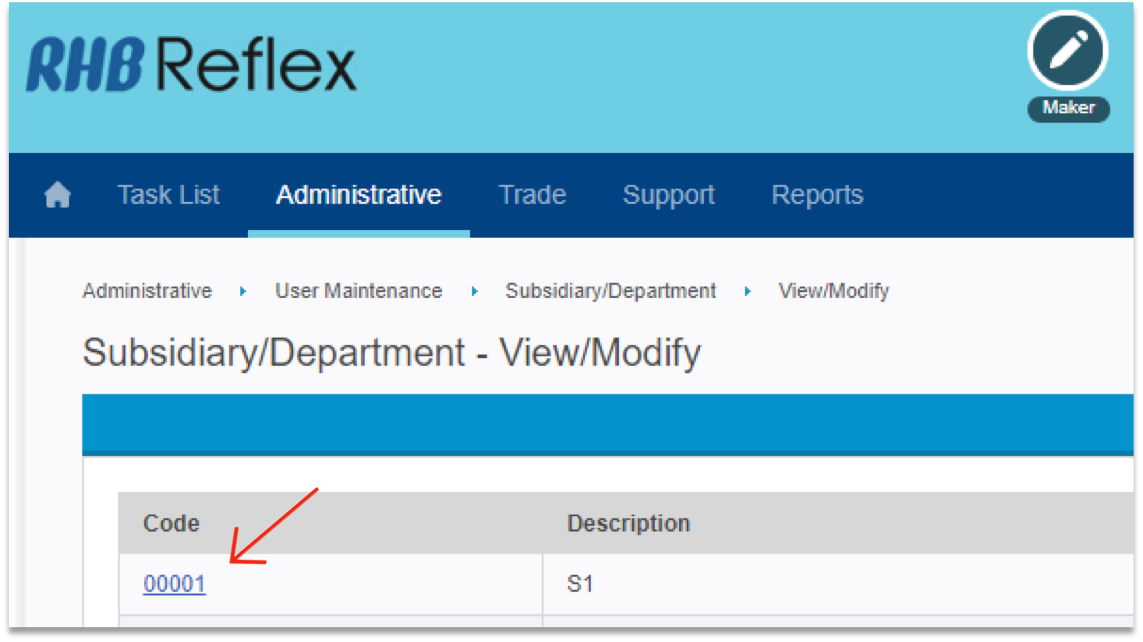 Setting up your company in Kakitangan.com:
Step 1: At dashboard, go to company settings.

Step 2: a) In company settings, fill in company name and company registration #.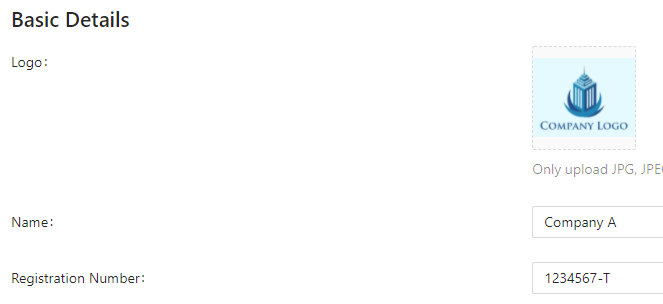 b) In Company Settings, go to Bank and Other Account Details.
c) Fill up all the company info, RHB Reflex Corporate ID and RHB Reflex Subsidiary ID are optional.


Step 3: Check the calculation for all employees' payroll to ensure that it is correct. After that, click on view report.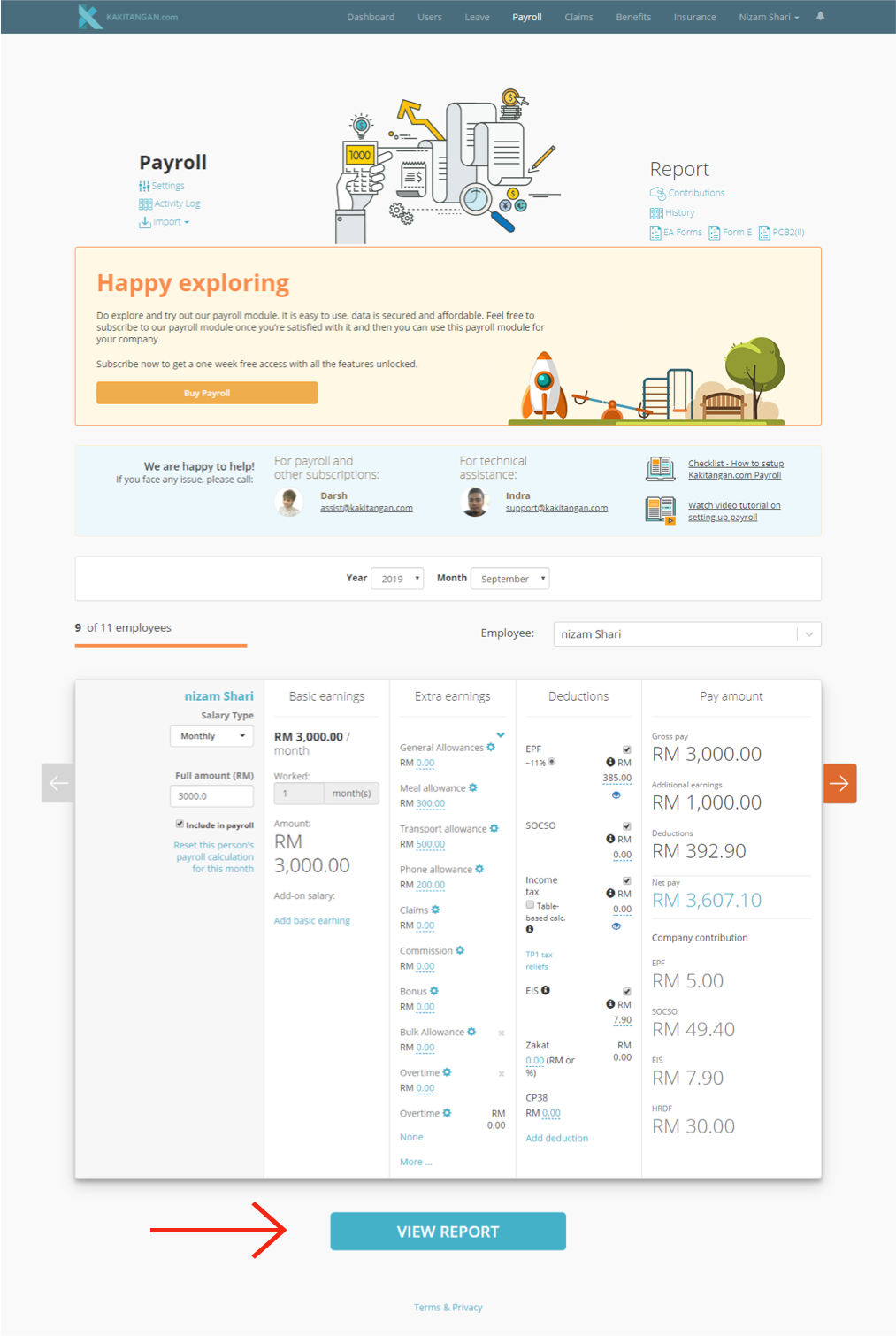 Step 4: In the payroll summary report click confirm amount for all employees once all the details in payroll summary report are correct.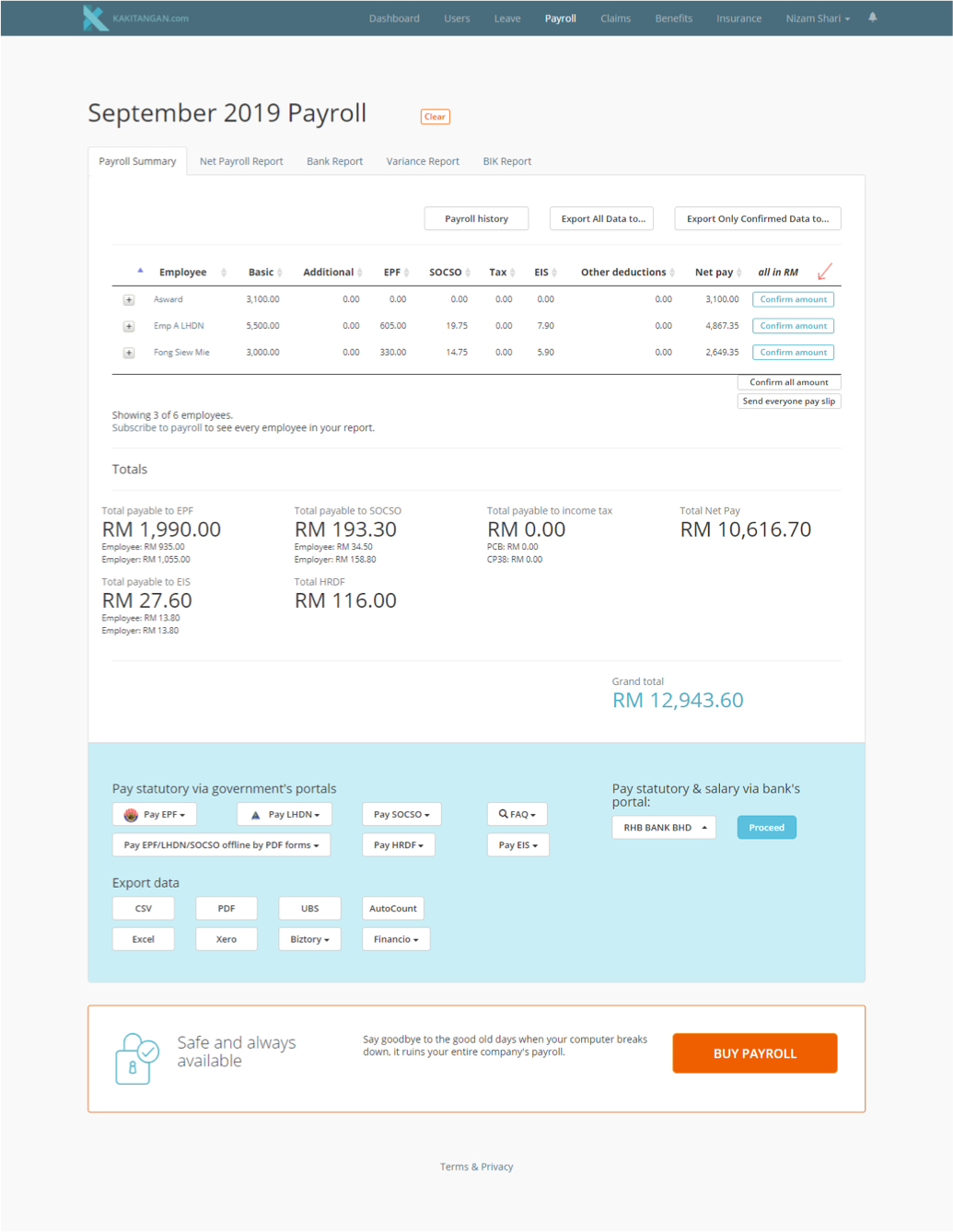 Step 5: At the bottom of the page, at Pay statutory & salary via bank's portal, select RHB Bank and click proceed.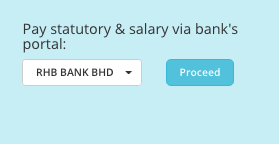 Step 6: Select Auto-pay via RHB Reflex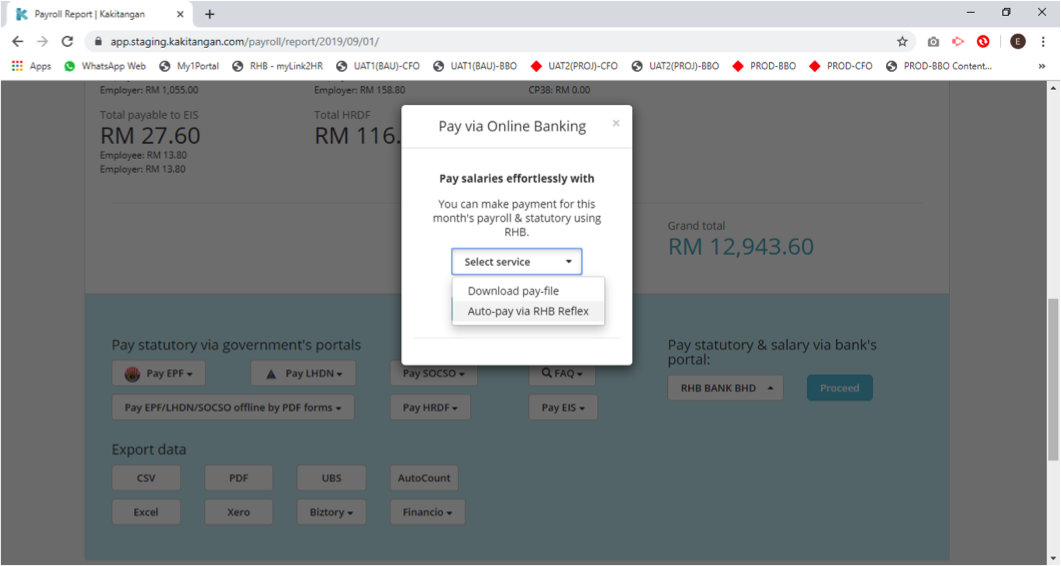 Step 7: Select Pay salary or Pay statutory.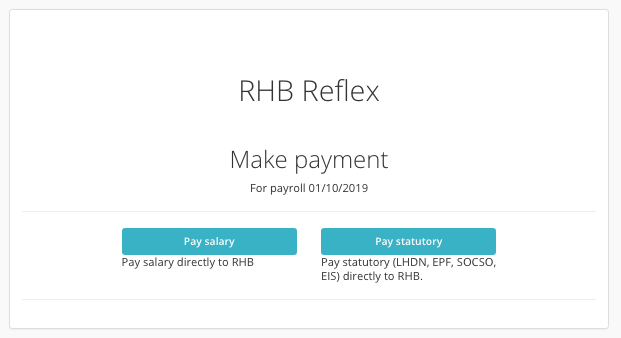 Approving Payroll & Statutory Payments
Step 1: Login to RHB Reflex as Authorizer and click on Pending Authorization.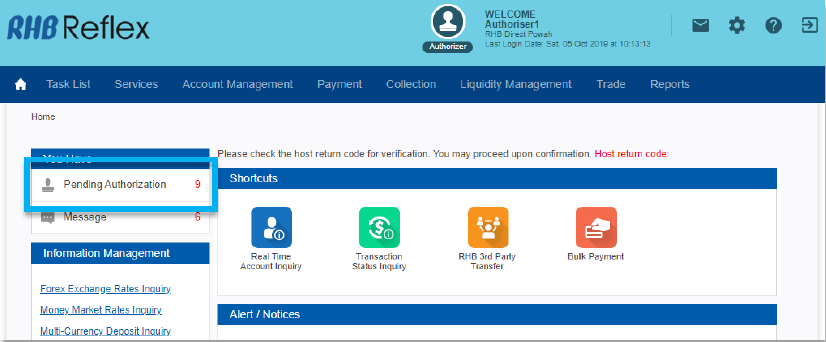 Step 2: In the Pending Authorization page, locate and click Bulk Payment.


Step 3: In the "Bulk Payment" authorization list, you will see 2 file names
a) Payroll payments file name will start with "BULKPAYGPG"
b) Statutory payments file name will start with "BULKPAYSTATGPG"

Step 4: Check your payment details, number of records, and total amount debiting. It should tally with the total amount you see in Kakitangan.

Step 5: You can also tally the number of employees under the Transaction Listing and their total amount to be credited.

Step 6: To approve the payment, use your RHB Reflex Secure Plus and authorize the payment accordingly.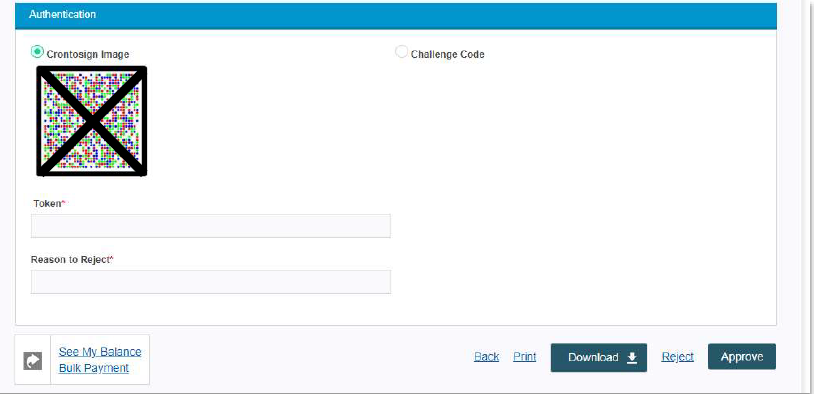 You're done with your Payroll & Statutory payments!
Few things to take note:
For employees that have been paid via the method above, they will be excluded from payroll once the payment has released through RHB bank.

For employees that have not been paid, you can repeat the processes above to make payment and it will not include those employees who have been paid.

Employees' bank account details must be filled in, in Kakitangan.com for payment to go through.

a) If the file is not uploaded successfully, Kakitangan will be informed by RHB Bank and customer will be informed of the reason for failure by Kakitangan. From there, customer will be informed of the reasons for failure and to make adjustments necessary in Kakitangan.com.
b) If the authoriser did not get the notification to approve within an hour, it would mean that the transaction did not go through, and we would recommend to revert back the normal method of uploading text file, and at the same time, check with support@kakitangan.com on the status.
Great. Enjoy the easiness of payroll payment with the new technology!!
how to setup Kakitangan.com so you can automate the max for your payroll and people operation /onboarding-your-company-to-kakitangan-com-for-the-first-time/