For people who are not familiar with accounting for Payroll, below is a guide on how to record your company's payroll information correctly:
Taking information below as example: (Click Payroll > Payroll Summary in Kakitangan.com page)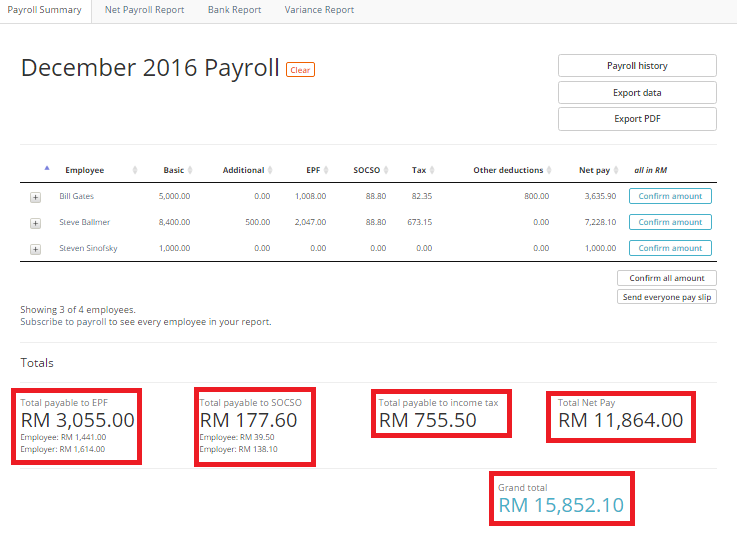 For payroll accounting, we want to know:
How much do I directly owe EPF, SOCSO? (Employer contributions)

How much do I indirectly owe EPF, SOCSO and LHDN from deductions of employee's salary

The timing of payment
A common mistake by many business owners is to mix up the employees and employer's liabilities (i.e. EPF).
While total amount to be paid to government is still same (i.e. RM3,055 for EPF), the financial statement cannot give a clear and concise information to interested parties (i.e. banks, LHDN).
This may raise questions later (i.e. during banks loan approval process, company tax audit)
The idea of "Control Accounts" is to help companies with issues above.
While the process takes a little more time, it saves us time and headaches later in doing reconciliations.
Here are the detailed accounting entries:
Step 1: Employee's Portions
Debit: Gross Salary – RM14,100
Credit:
EPF – Employee's EPF Deduction (Control Account, Liabilities) – RM1,441.00
SOCSO – Employee's SOCSO Deduction (Control Account, Liabilities) – RM39.50
LHDN – Employee's PCB Deduction (Control Account, Liabilities) – RM755.50
Net Salary - (Control Account, Liabilities) – RM 11,864.00
Step 2: Employer's Portion
EPF
Debit: EPF – Employer's Contribution (Expense Account, P&L) – RM1,614.00
Credit: EPF – Employer's Contribution (Control Account, Liabilities) – RM1,614.00
SOCSO
Debit: SOCSO – Employer's Contribution (Expense Account, P&L) – RM138.10
Credit: SOCSO – Employers' Contribution (Control Account, Liabilities) – RM138.10
Step 3: Payment
Paying employee's net salary
Debit: Net Salary – (Control Account, Liabilities) – RM 11,864.00
Credit: Bank / Cash Account – RM 11,864.00
Paying EPF
Debit:
EPF – Employee's EPF Deduction (Control Account, Liabilities) – RM1,441.00
EPF – Employer's Contribution (Expense Account, P&L) – RM1,614.00
Credit: Bank / Cash Account – RM3,055
Paying SOCSO
Debit:
SOCSO – Employee's SOCSO Deduction (Control Account, Liabilities) – RM39.50
SOCSO – Employers' Contribution (Control Account, Liabilities) – RM139.10
Credit: Bank / Cash Account – RM177.60
Paying LHDN PCB
Debit: LHDN – Employee's PCB Deduction (Control Account, Liabilities) – RM755.50
Credit: Bank / Cash Account – RM755.50
Skip to Payroll accounting for: Sage, MYOB, QuickBooks, SQL Accounting
Illustration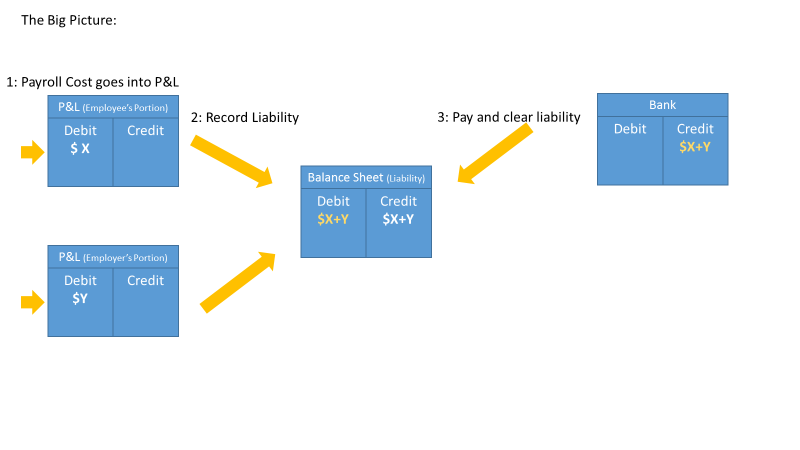 To Illustrate