As countries develop, business spreads. As business spreads, countries develop more. And where business grows, the printing industry invariably grows in parallel. Truth is, as members of SMEs or corporations, there's a lot of printing done around us, and on a quite regular basis. Unfortunately, getting products printed is not always as easy or convenient as it should be, especially in South-East Asia. Since Kakitangan recently needed to print some promotional material, we did our research and compared different services. Interestingly, we came across a quite new online printing service in Malaysia, called Gogoprint, which offers a wide set of products through a user-friendly website built around convenience, transparency, and speed.
We tried the service, it's definitely very user-friendly, as well as reliable. Gogoprint allows you to customise and order high-quality business stationery and promotional materials for your business, delivered where you want in Malaysia. For example, you can order business cards or flyers, and choose all the options that you want or need. The ordering process is divided into 4 simple steps, and goes very fast:
Step 1: Selecting your product and options
Once you selected the product you would like to order from Gogoprint's (through the homepage, or the dropdown menu in the website header), you will be led to the product page where you can read more about the products and customize your product. Selecting the options that you desire immediately updates the extensive price table, where you see prices for all the different quantities and production speeds (see screenshot below). This demonstrates how committed Gogoprint is in terms of pricing transparency and delivery deadlines, which strongly differentiates then from other printing companies. In our opinion, this adds a lot of value for customers.
You can also choose the delivery date based on the urgency with which you need your products. You have the choice to receive your products as fast as 2 days after you placed order (if you order, pay and upload your artwork files before 12PM), while normal production and delivery lasts about a week for the products to get to you.
To "add to cart" the product (in the quantity and production speed that you desire), you just need to click inside the price table. That will open a pop-up window with a couple of final options before adding to cart.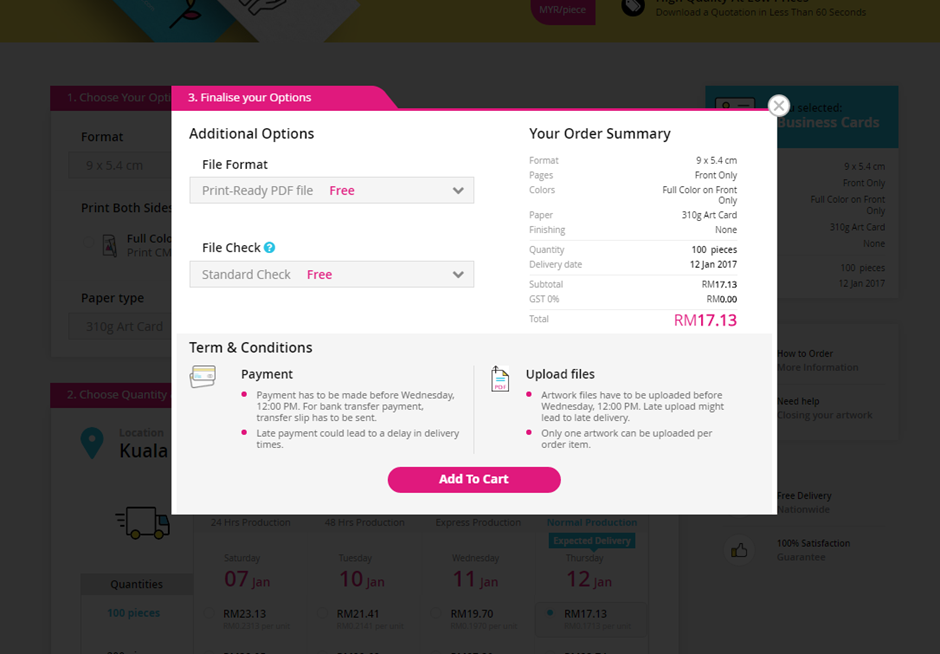 Step 2: Make order payment
Once you have added all the products that you need to your cart, check-out your order and make payment. There are three different payment methods provided and all of them are secure. You may either settle your payment through online Debit/Credit Card payment, Internet Banking or a traditional Offline Bank Transfer. Please note that Internet Banking and Debit/Credit Card work the fastest and are definitely the most convenient from all perspectives (accounting too!). These payment methods work the best especially for people looking for the highest level of convenience or in a hurry.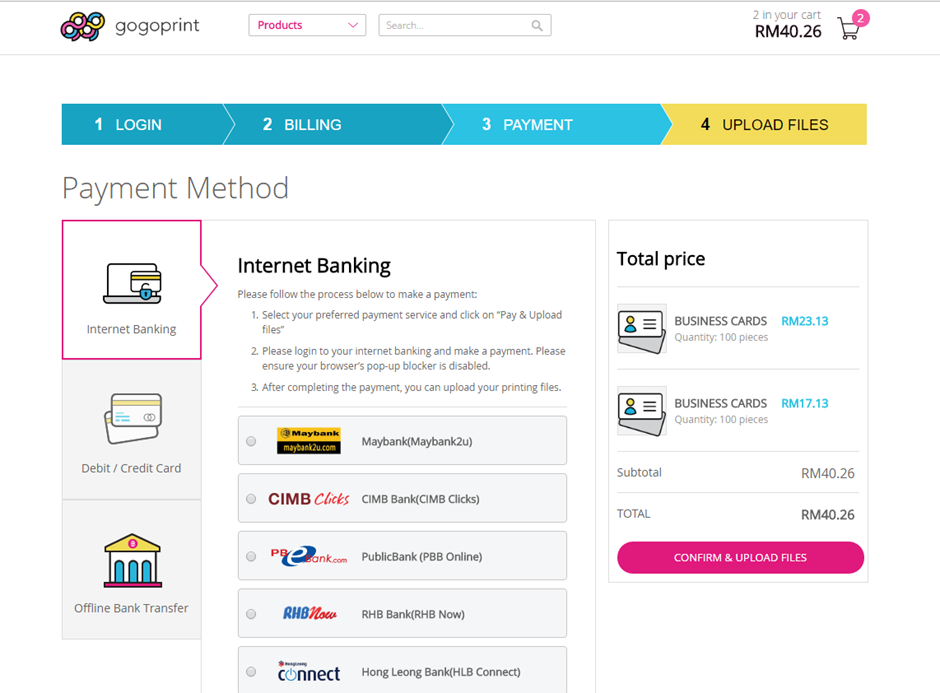 Step 3: Uploading your Artwork File(s)
In this section, customers may upload a print-ready PDF artwork file(s) for each of the products ordered. However, if you don't have your artwork ready or you only have your poster or business card in hardcopy form, do not hesitate to contact Gogoprint's customer service for assistance.
Properly setting up, configuring, and saving an artwork file for printing is vitally important in order to ensure high quality printing results, but it is not an easy task. If you encounter problem with this, Gogoprint offers extensive help in its help section and blog.
Step 4: Products Delivered
One of the best things with Gogoprint is that the delivery of products is free all over Malaysia. Once your order is shipped, you will receive an email from Gogoprint containing a unique tracking code which allows you to check on status of your product delivery at any time. We always find this both convenient and satisfying. 
To sum up, Gogoprint's website is reliable, comprehensive and very user friendly. A very strong option to get your printing done if you ask us! You will be amazed by the end-printing result in terms of quality and speed. If you never had experience using online printing services before or in a rush to do printing, we recommend you try out Gogoprint!