The integration between Kakitangan.com payroll and TimeTec is through direct API.
If you are existing users from TimeTec, you may
Contact the key person of yours in TimeTec and tell them you are interested with Kakitangan.com so they can direct you to the right person in Kakitangan.com.
Otherwise, you may straight come to Kakitangan.com platform via live chat on the bottom right or reach us at assist@kakitangan.com to tell us your interest on this integration, we will assist further.
If you are existing users from Kakitangan.com, you may
Tell us your interest to use this integration via live chat on the bottom right
Or, you may reach us at support@kakitangan.com.
---
What does the integration include?
Attendance from TimeTec:
Workday hour
Overtime hour
Unpaid Leave day
---
Things to take note beforehand
Pay type
You may have different pay types: Monthly, Daily or Hourly. Please note, monthly pay type has a fixed basic salary where workhour calculation will not take place.
Attendance x Payroll

Pay type

Workhour

Overtime hour

Monthly

Not applicable

Yes

Hourly

Yes

Yes

Daily

Yes

Yes
2. User ID
Please make sure the User/Employee ID in both Kakitangan.com and TimeTec are the same to ensure the data can be synced correctly.
3. Two cycles
If your company practices two cycles payroll, please make sure you have switch on this under Payroll setting -> Multiple cycles -> Select "2" cycles per month. Note: You may disregard the unpaid leave deduction cycle if you do not subscribe our Leave module.

4. Overtime types
Please make sure the OT types and rates you have created on TimeTec platform and Kakitangan.com payroll are the same to ensure the data being correctly synced. You may edit the rate from Payroll settings -> Overtime -> Save.

---
How to import data from TimeTec to Kakitangan.com Payroll?
Please make sure necessary setup has been placed before starting below steps.
All setup has been done and you are ready to process this month payroll with the attendance from TimeTec,
Payroll -> Import -> Select "Timetec"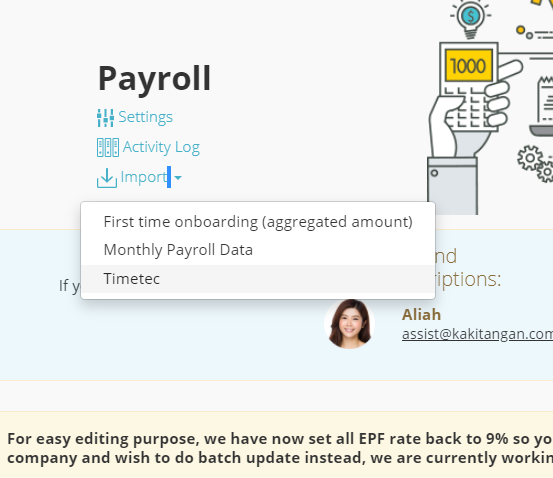 2. You will come to this screen - Import from TimeTec.
Select the date from which to which
Select the employees you want to include
Tick the data (Work hours and OT hours) that you want to include
Click Import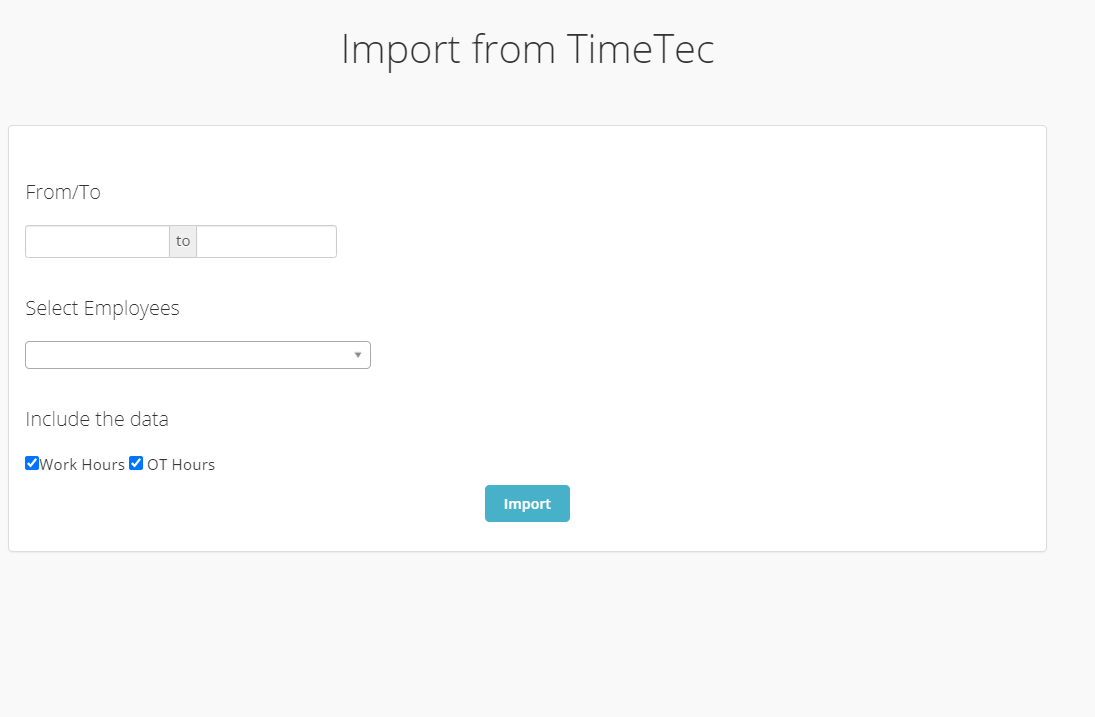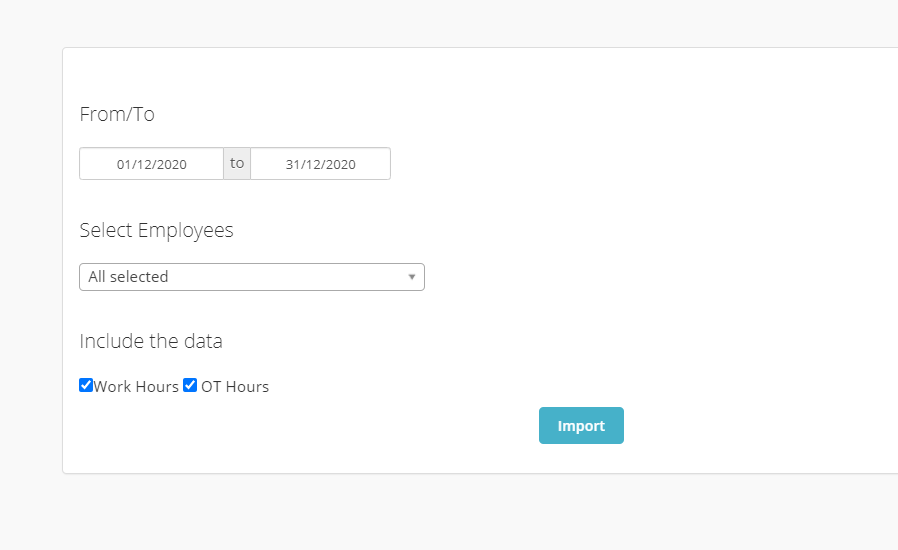 3. Once you click import, this is the page that you can double check then hit the Confirm button at the bottom.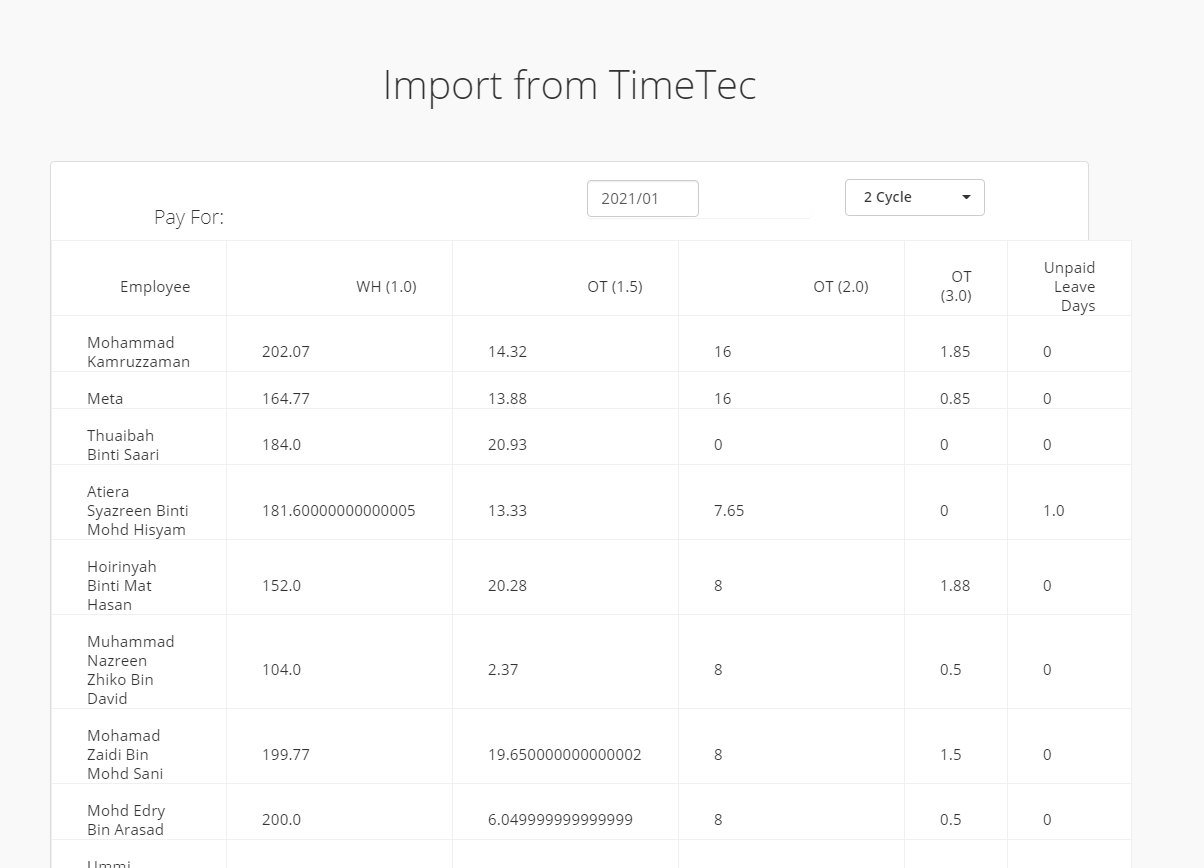 4. On your payroll calculator, you shall see those worked, OT days and amount reflected on each individual.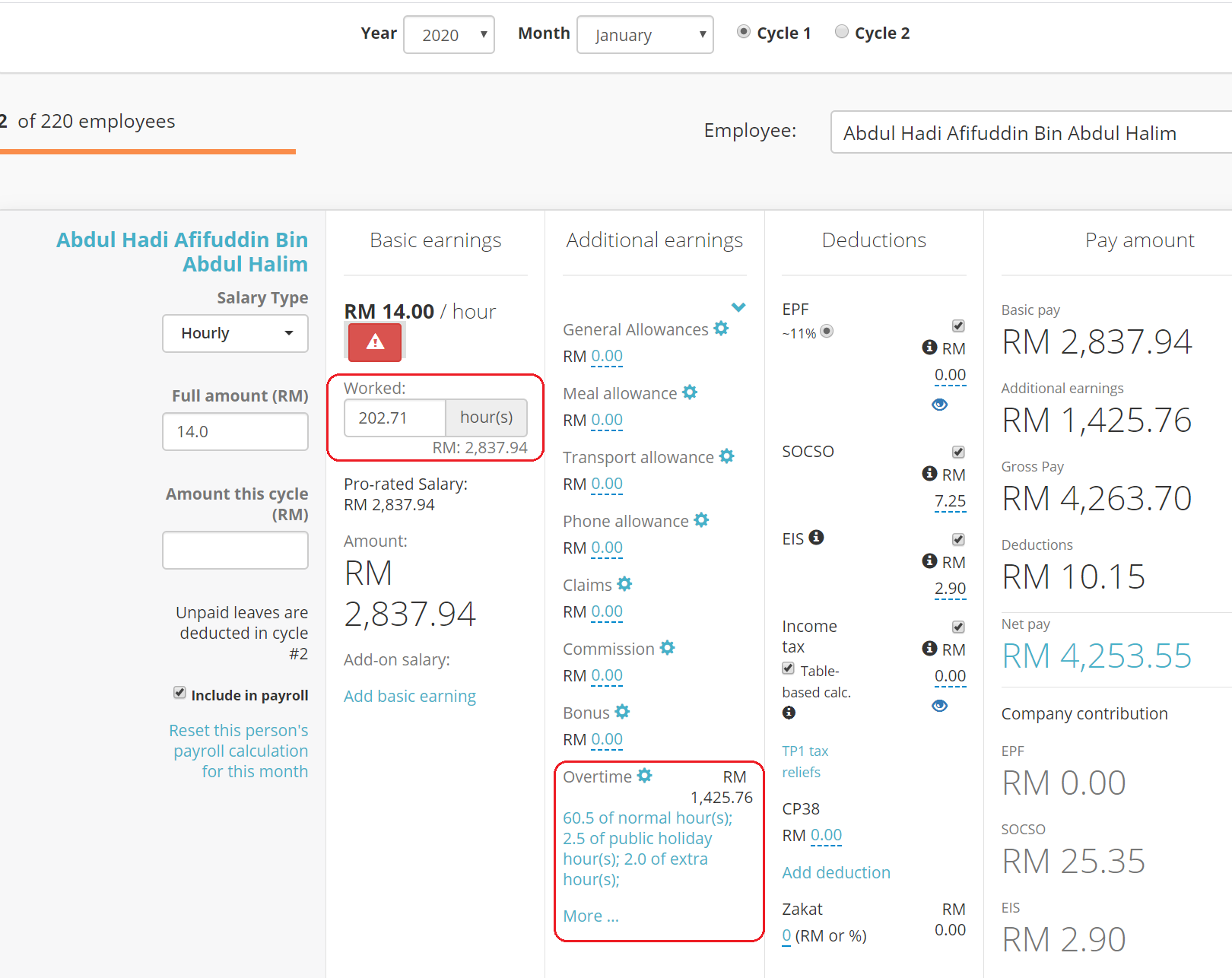 Hope it helps :)

Note: Please make sure you the attendance data that you upload is for the intended month, cross check the month and cycle on the payroll calculator. If you found any discrepancies after double checking on your side, feel free to reach us at support@kakitangan.com or via live chat on the bottom right.