The minimum statutory contribution rate for employee contributions will go down from 11% to 7% which will be in effect until December 2020.
When it takes effect and end?
Start month: April 2020's wage (May 2020's contribution)
End month: December 2020's wage (January 2021's contribution).
Meaning, it takes effect when you arrange the payroll for April 2020 and the EPF's contribution on May 2020.
Who will be involved?
The new statutory contribution rate for employees applies to those below 60 years old who are liable for contribution.
The statutory contribution rate remained unchanged for the employees aged 60 years old and above.
How to complete the progress?
IF YOU FOLLOW THE MINIMUM 7%
By mid April 2020, the Payroll Calculator in Kakitangan.com will be defaulted to 7%. Just carefully check it then it should be all-set.
Pay EPF as usual.
IF YOU HAVE STAFF WHO OPT FOR 11%
Employees need to fill up the Borang KWSP 17A (KHAS2020) to maintain the current contribution rate of 11%, (Updated as of 17th March 2020) which is available now at https://www.kwsp.gov.my/ to download.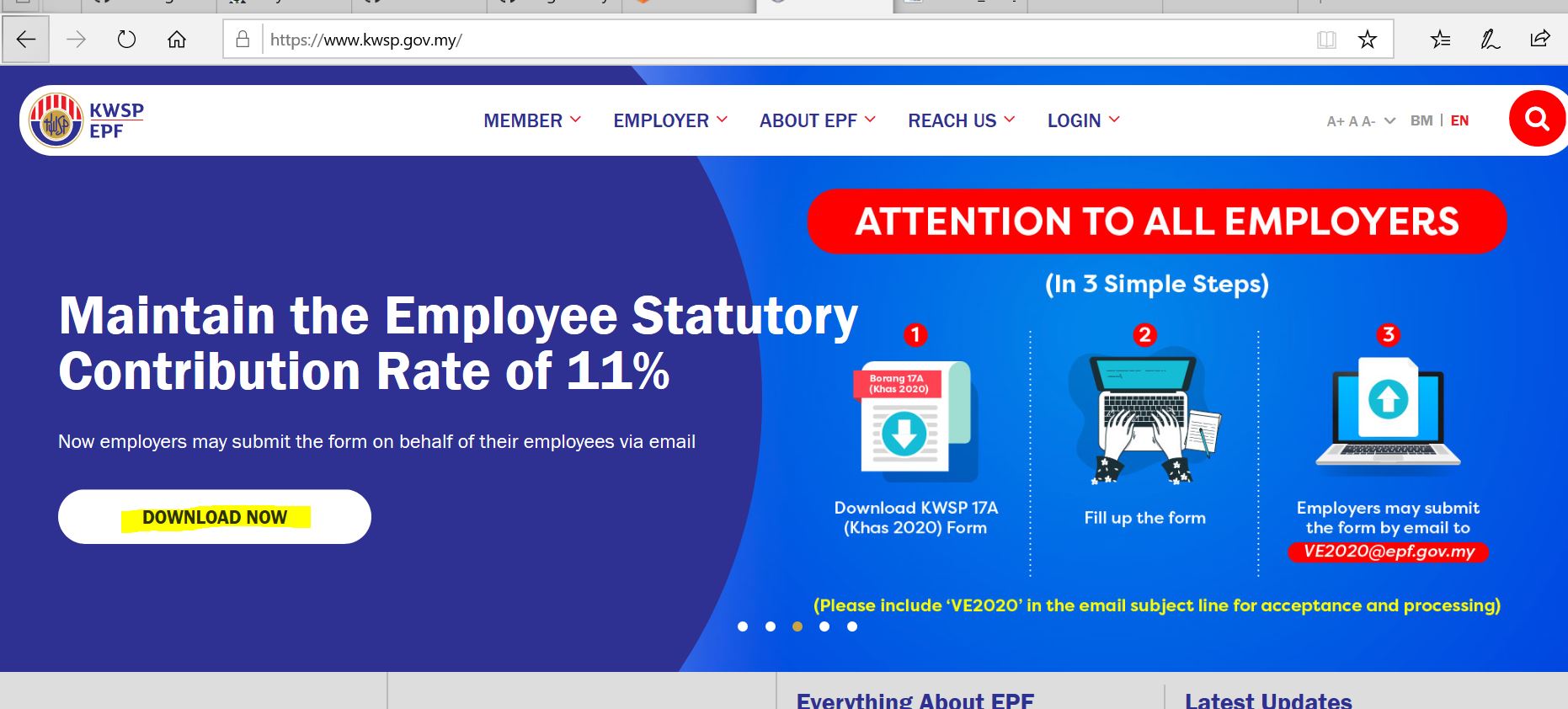 Form above must be submitted to the EPF by employers and will take effect from the following month – April 2020.
How to submit the form (Updated as of 17th March 2020) – We have confirmed with KWSP, the form can be submitted by (1) Email to VE2020@epf.gov.my, please be reminded to include "VE2020" in the email subject line for acceptance and processing; or (2) You may submit to the nearest EPF branch.
By April 2020, when you process payroll, please make sure you choose 11% for this (these) particular staff in the Payroll Calculator and recalculate.
How to make your life easier with Kakitangan.com - Payroll?
Here we provide the steps:
Note: All of below will take effect on April, 2020, after all March payroll are conducted legally.
Step 1: Under Kakitangan.com payroll page – Deductions column will show the selection of EPF of 7% and 11%. Make your selection accordingly,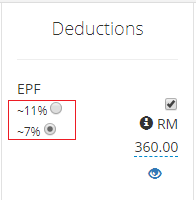 You will see changes on the amount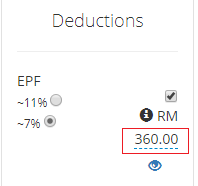 To see how the amount derived, please click on the "eye" icon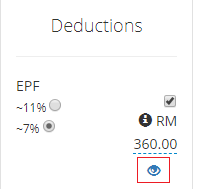 Step 2:
You may find a link to reach the Borang KWSP 17A (KHAS2020) at Payroll summary page – under Pay EPF.

Hope it helps to ease your current situation.
For more information about the EPF, click here.
Further enquiry, you may refer to the EPF website at here, call the EPF Contact Management Centre at 03-8922 6000, or visit any EPF branch.