Starting for the year of 2021, the minimum statutory contribution rate for employee contributions will go down from 11% to 9%.
When it takes effect and end?
The new rates will be in effect for the whole year of 2021, affecting
Start month: January 2021's wages (February 2021's contribution)
End month: December 2021's wages (January 2022's contribution)
Meaning, it takes effect when you arrange the payroll for January 2021 and the EPF's contribution on February 2021.
---
Who will be involved?
The new statutory contribution rate for employees applies to those below 60 years old who are liable for contribution.
The statutory contribution rate remained unchanged for the employees aged 60 years old and above.
---
How to complete the progress?
If you follow the minimum 9%
By Mid January 2021, the payroll calculator in Kakitangan.com will be defaulted to 9%. Just carefully check it then it should be all-set.
Pay EPF as usual.
If you have staff who opt for 11%
Employees need to fill up the Borang KWSP 17A (KHAS 2021) to maintain current contribution rate of 11% which is now available at here.

2. Employers need to keep the completed Borang KWSP 17A (KHAS 2021) form as record.
3. All submissions are to be done via the i-Akaun (Employer) portal ONLY with VEKHAS2021 csv file.
4. Employers may start submitting from 14th of December 2020.
5. By January 2021, when you process payroll, please make sure you choose 11% for (these) particular staff in the Payroll Calculator and recalculate.
Quick tip: We have both files available in Kakitangan.com, check out below.
---
How to make your life easier with Kakitangan.com - Payroll?
1. Payroll Calculator
Step 1: Under Kakitangan.com payroll page – Deductions column will show the selection of EPF of 9% and 11%. Make your selection accordingly,
Note: All of below will take effect on January, 2021, after all December 2020 payroll are conducted legally.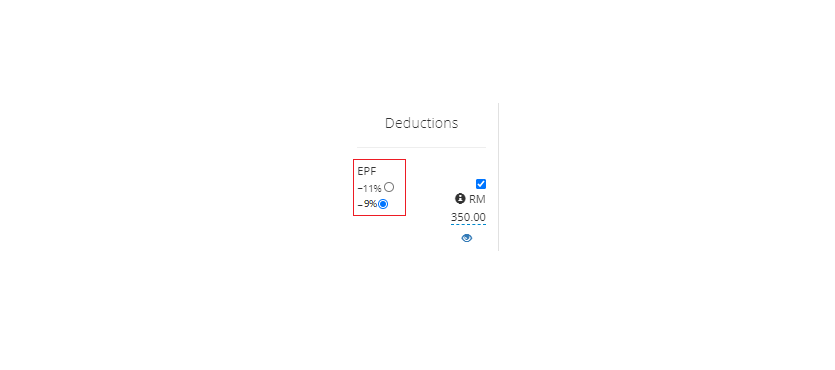 You will see changes on the amount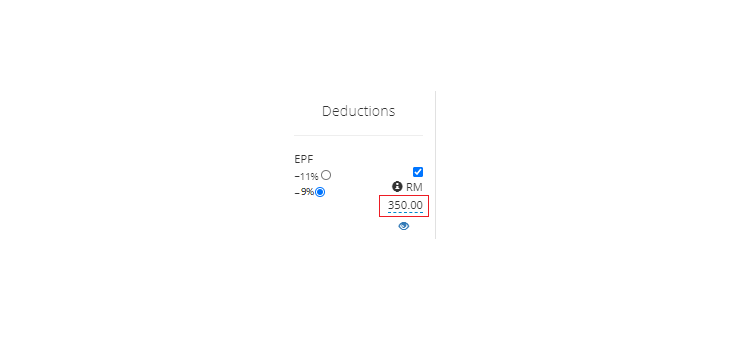 To see how the amount derived, please click on the "eye" icon

2. Borang KWSP 17A (KHAS2021)

You may find Borang KWSP 17A (KHAS2021) at Payroll summary page – under Pay EPF.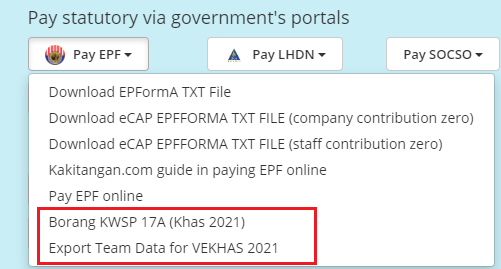 3. VE KHAS 2021
You may find VEKHAS2021 file on the top right of the Dashboard page or under Pay EPF as well.

I. Click on Export Team Data for VE KHAS 2021. This file consists the required fields and data of ALL of your employees. Please double check the data in the system is correct to use.
ID Type : IN (MyKad) or PP (Passport-Foreigners)
Employee MyKad No : 12 digits ONLY (exclude dashes)
Employee EPF No : 8 digits ONLY
Employee Name : Limit to 80 characters ONLY
II. Now,  highlight both Employee MyKad No and Employee EPF No to apply correct format > Number > Decimal places : 0 > click ok.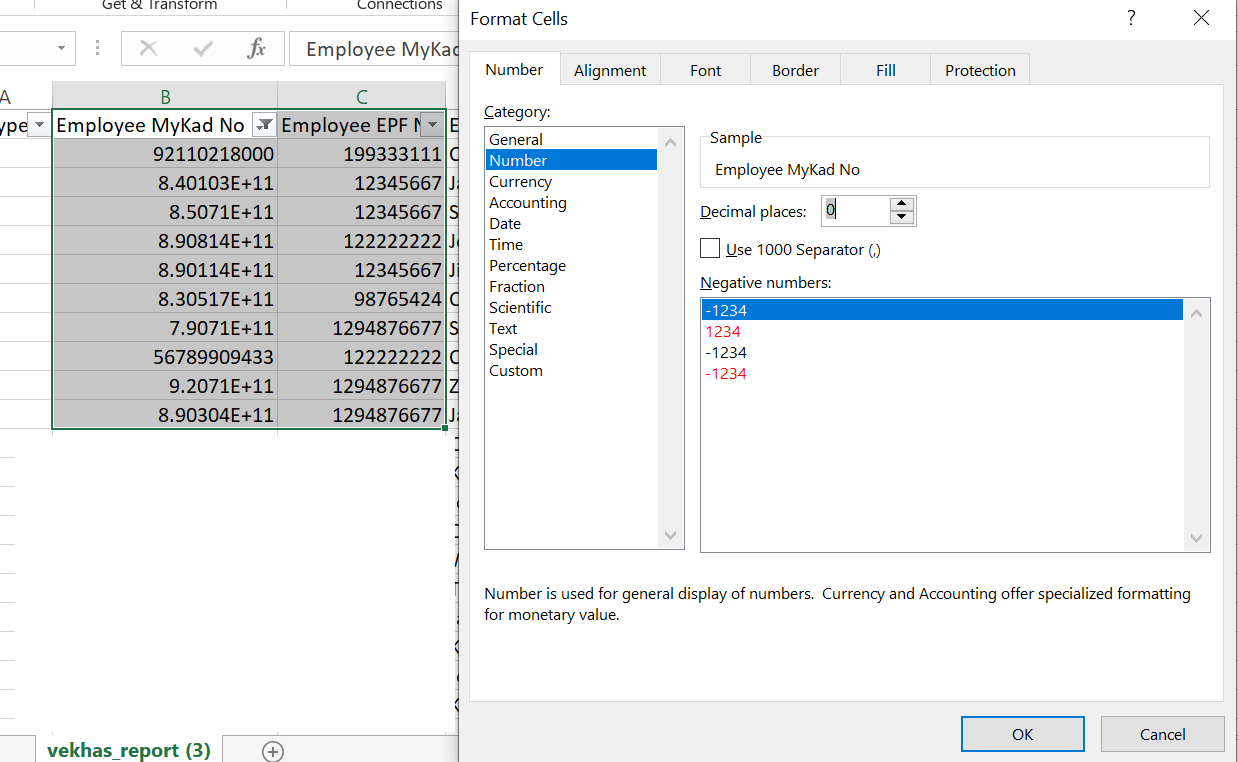 You shall see the correct format in both fields.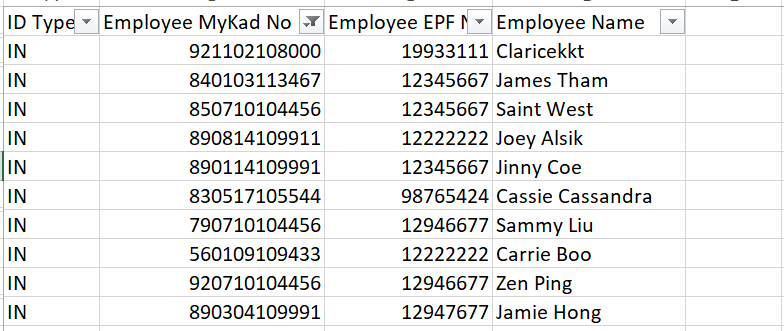 III. Now, you may start removing employees that ARE NOT voting for 11% from this file by deleting each row.
IV. Our file format is aligned with KWSP requirement, if all data is correct, there should be no issue to upload to the i-Akaun. Guide to upload to the i-Akaun, please refer to the KWSP guide here.
V. Lastly, after the file is submitted, you will see status as "submitted". Please note that it doesn't mean this is the end of the task. You will need to pay attention on the status change to "successful" to be considered as completed.

Rejected  - You need to submit a new application with correct information for all employee
Partial Success - You need to resubmit the correct information for unsuccessful registered employee.
Processing - In the middle of processing
Successful - Application is accepted
---
Note:
Despite employees being able to submit the Borang KWSP 17A (Khas 2021) form as early as 01/12/2020, employers are only allowed to upload VEKHAS2021 csv file on i-Akaun (Employer) starting from 14/12/2020
The application for employees to contribute above the statutory rate will be in effect from January 2021 wages OR for wages on the month following the registration made by employers on the i-Akaun (Employer).
The application for employees to contribute above the statutory rate cannot be cancelled once they have submitted the VEKHAS2021 csv file in i-Akaun.
Hope it helps to ease your current situation.
For more information about the EPF, click here.
For further info, employers can contact EPF's Contact Management Centre at 03-8922 6000 or refer to its www.kwsp.gov.my.