Wage Subsidy is known as the Program subsidi Upah (PSU), is a financial assistance provided to the employers who have been financially affected by COVID-19 to maintain the business and the employees. This program takes effect on 1st April 2020, deadline of application would be on 15th September 2020.
1. Who is qualified?
Companies who have registered with the Companies Commission of Malaysia (SSM) or local authorities before 1st January 2020.

Perkeso registered member (Before January 2020)

Employees who have received subsidy from ERP at the same month, will not be qualified on this program.

Terminated employees will not be qualified as well.

Subsidy period is up to 3 months. (Between 1st of April to 31st December 2020)

The employers must show the proven record of more than 50% revenue declining comparing to the sales volume in January 2020 with the months ahead except the company size of 75 and below.
(Note: We are assuming the comparison is between Jan -Mar 2019 and 2020, please further verify with Perkeso.)

Subsidy amount is differed by company size, please see below summary chart.


Employees with wages of RM4000 and below.
(Note: We realized the Perkeso website is stating RM4000 and below but the form of Lampiran Senarai Pekerja (see II below) is showing us RM5000 and below, we decided to just fill up employees with RM5000 and below and let Perkeso to inform us the status later on. If you need further verification, we suggest you to contact Perkeso.)

The employers shall not
(1) Terminate employees within 6 months (includes the 3-month period when receive the subsidy)
(2) Instruct the employees to take unpaid leave within 3-month after the implementation of this program.
(3) Deduct the salary of existing employees
2. How to apply?
Please visit and apply from this link http://prihatin.perkeso.gov.my/ which takes effect on 1st April 2020.
Step 1
You will see screen below and click on the Permohoman Bulan Pertama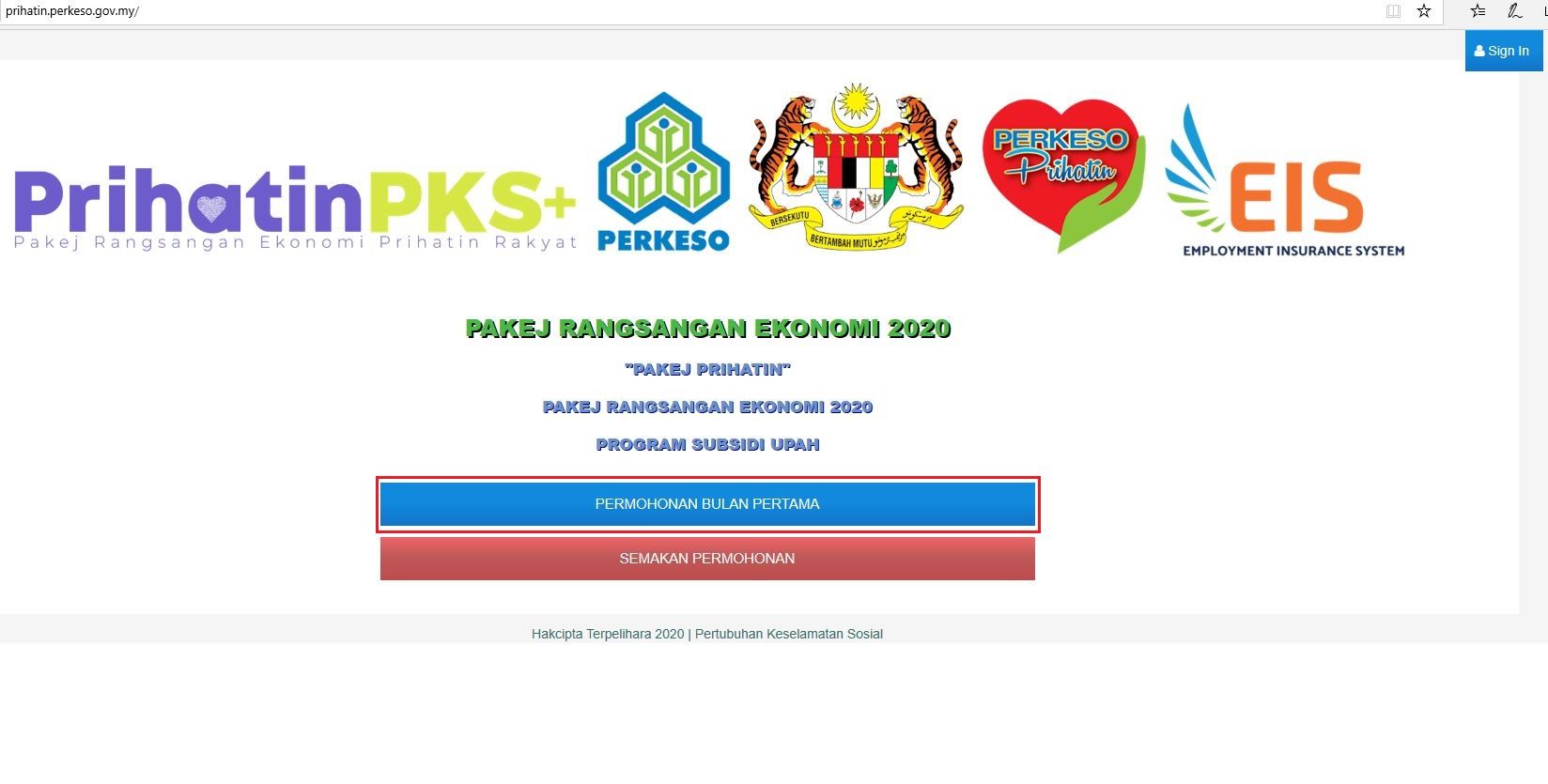 Step 2
Screen below is Part A, to fill up details of the employer.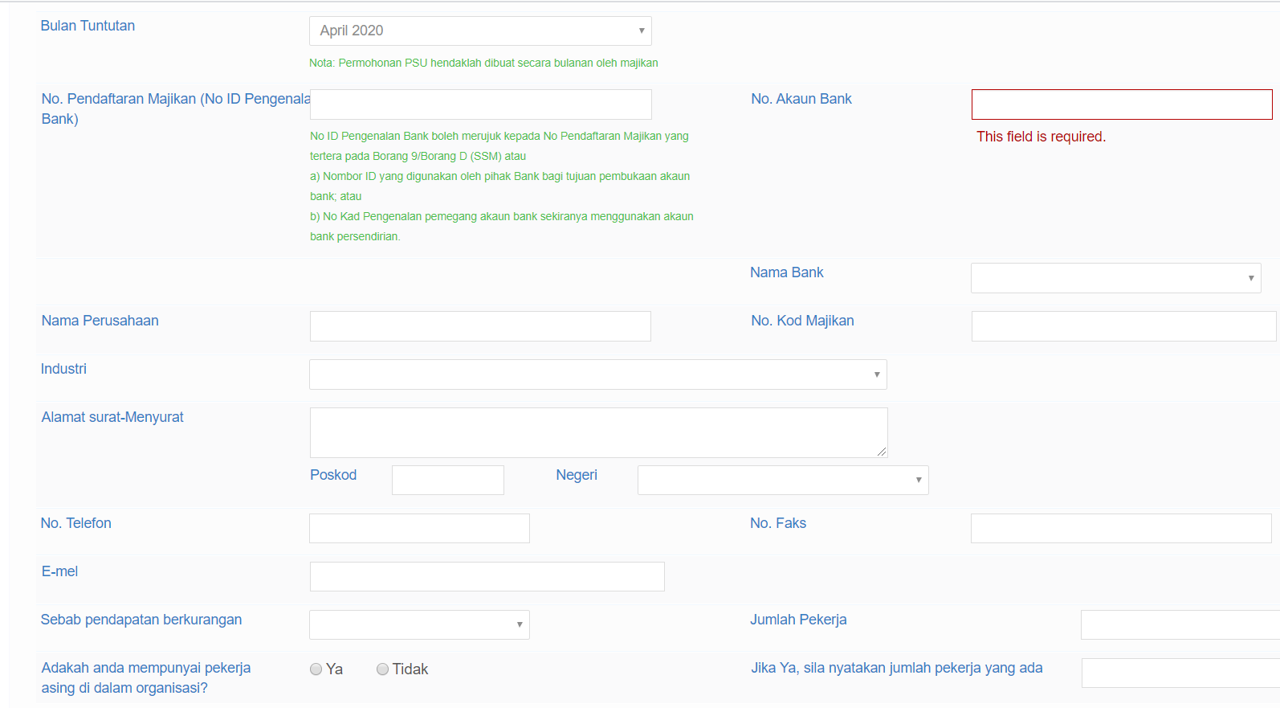 Step 3
Screen below is Part B, consists of 5 documents to fill up and upload. Don't panic, here we will guide you one by one.

I. Akuan Pengisyitharan PSU50
Click on the disini next to it, there will be a download of word document.
Please fill up the required info and upload the file.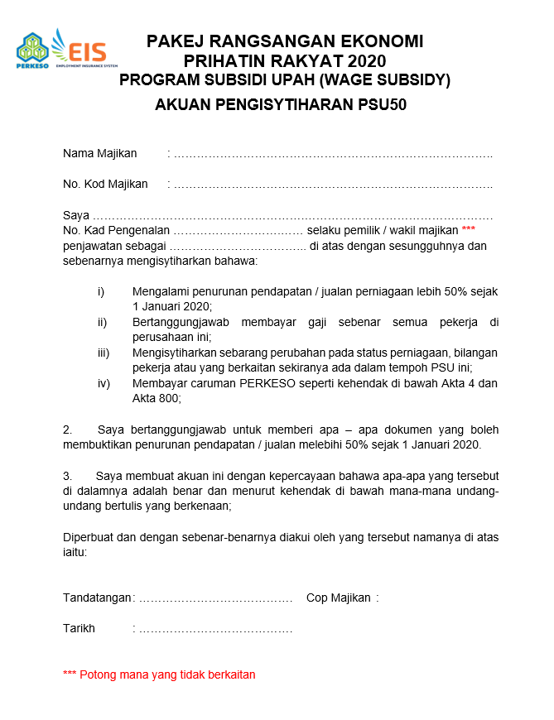 II. Lampiran Senarai Pekerja
Click on the disini next to it, there will be a download of excel document.
Here is the excel form, please fill up accordingly.

See attached where we **_mentioned that they cover for employees who have salary RM5000 and below._**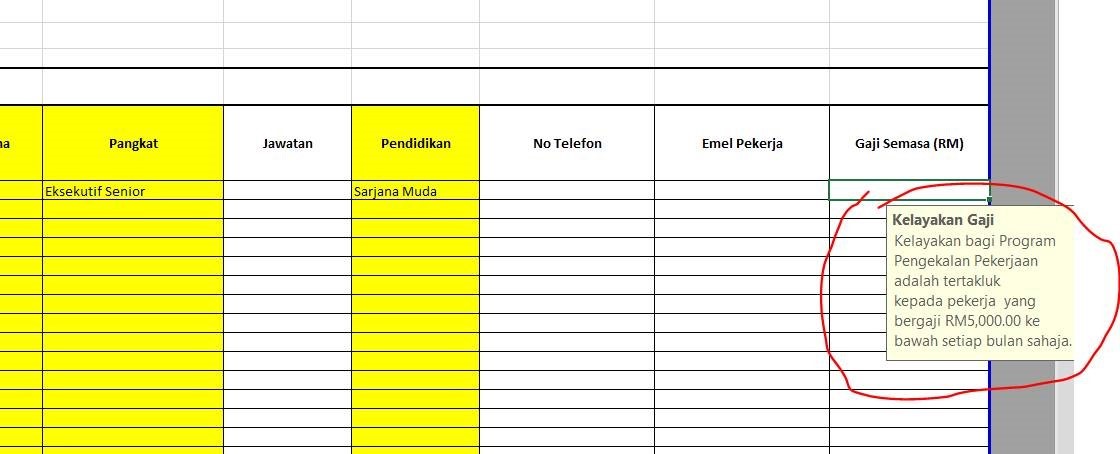 III. Salinan SSM/ROS/ROB
It is basically your company's Form 9 SSM document. You may upload an image of it.
IV. ID Pengenalan Bank Panel/MyCOID
Click on the disini next to it, there will be a download of pdf file.

To obtain Business Registration Number (BRN) info from the company's bank. Please contact your bank and fill up the info to upload.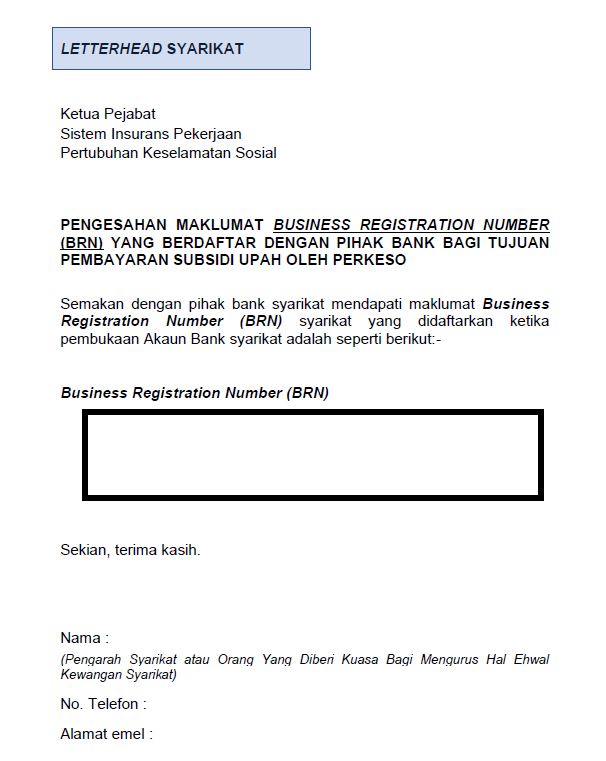 V. Salinan Penyata Akauan Bank perusahaan
It is basically your latest bank statement (we have verified with Perkeso on this), and you can easily download it from your bank online portal.
Step 4
After you successfully uploaded all the required documents, check the boxes to consent and click "Hantar" to send.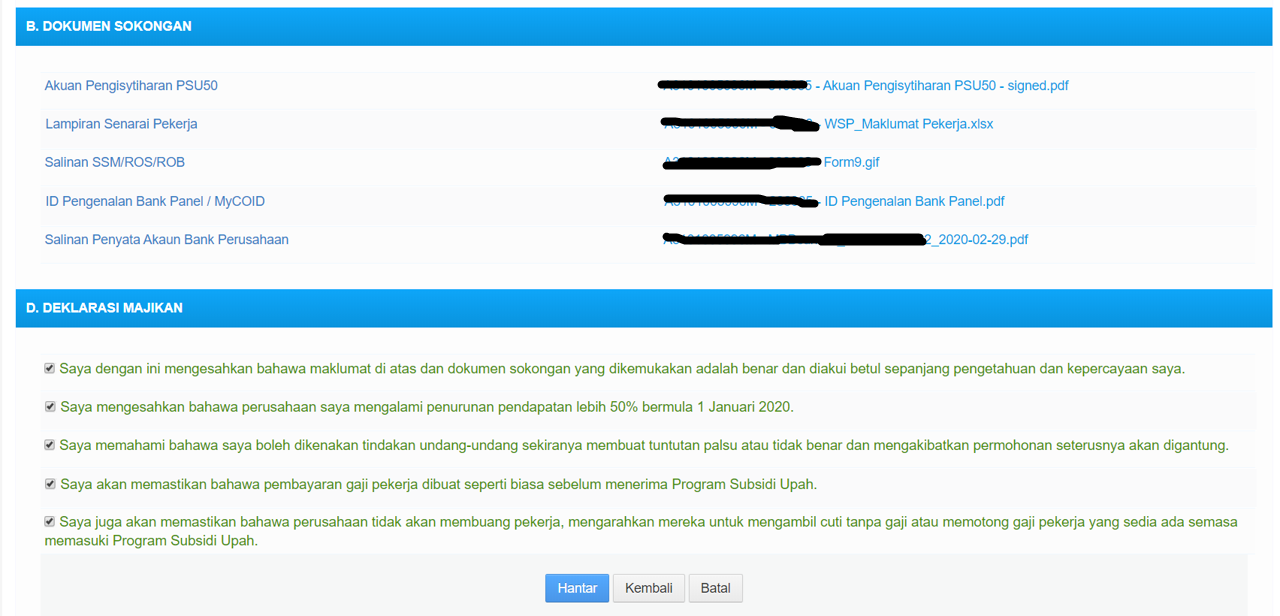 Last step
Now, you will be directed back to the front page, showing that the request completed successfully and at the middle of it you will find a statement with the case code number.
Please be reminded that to note down the case code, it is your reference case number when you have to check the status.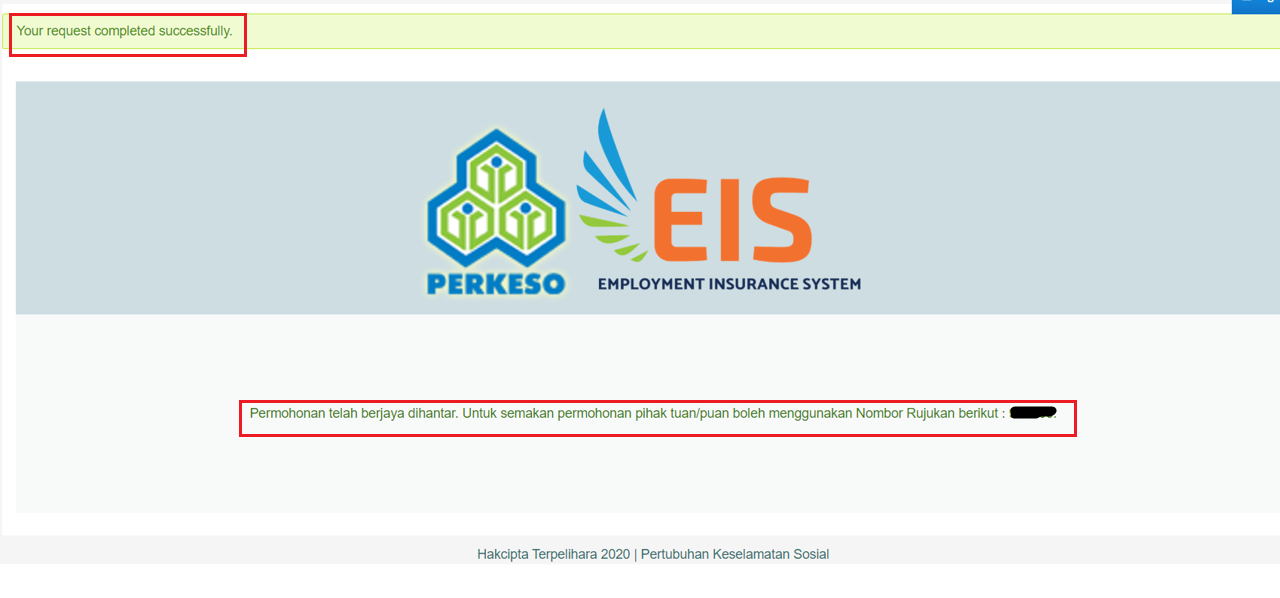 You can check your application status at the front page - "Semkan Permohonan" by key in the case code number.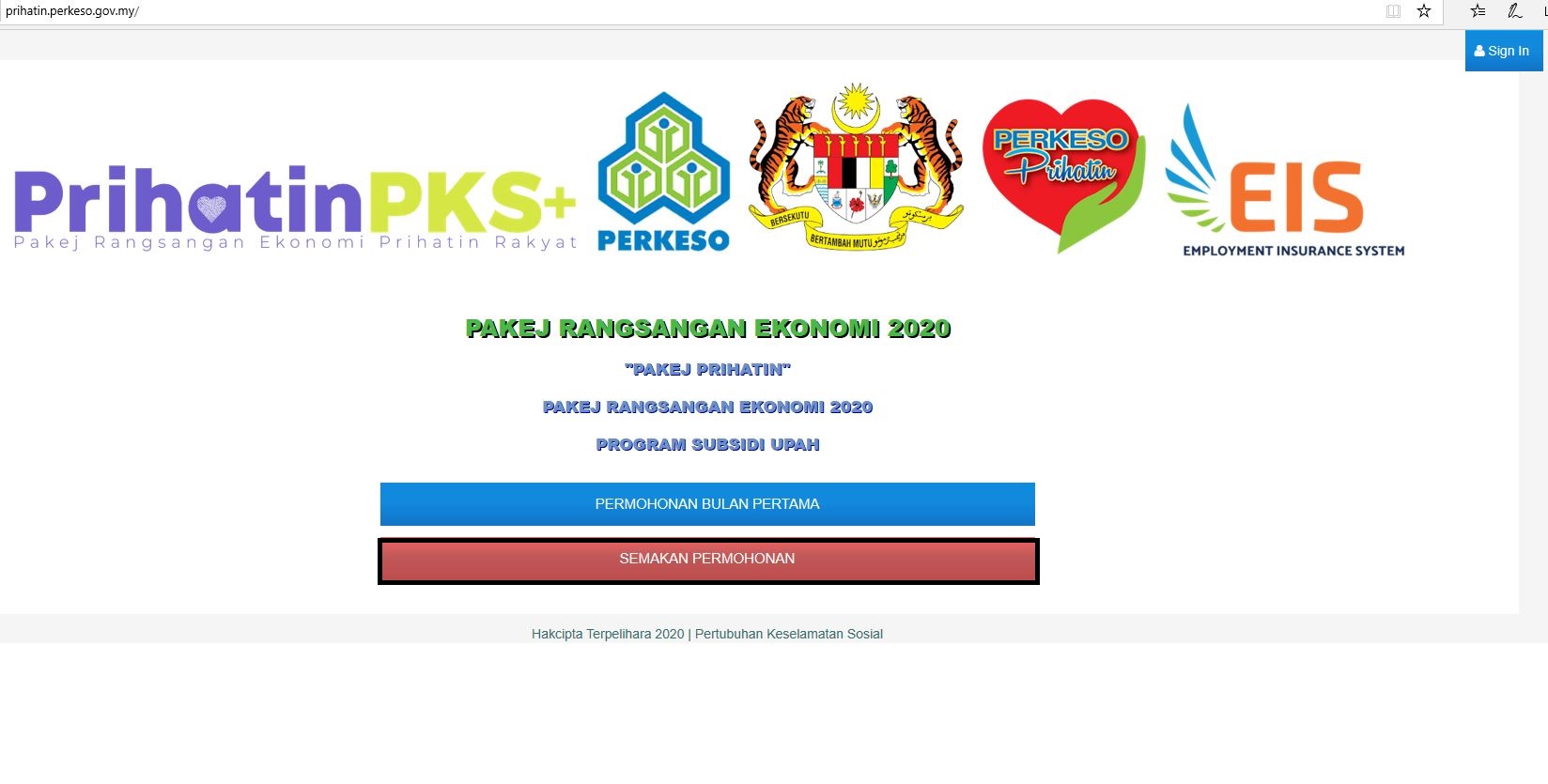 3. What is the payment method?
Payment will be credited directly to the employers' accounts within 7 to 14 days, starting from the application date.
Note: Employers who had submitted this application, do not need to re submit even though there are some changes after the re-announcement on April 6th unless there are changes on the list of employees.
For more information or verification, You may
Visit https://www.perkeso.gov.my/index.php/en/kenyataan-media or https://www.perkeso.gov.my/index.php/en/wage-subsidy-programme
Email to perkeso@perkeso.gov.my
Call 03-42645555/ 03-8091 5100/ 1-300-22-8000
Social media @eisperkeso
Hope it helps you to have a smooth application experience.
Kakitangan.com offers FREE 3 months subscription /kakitangan-coms-free-3-months-support-program/