Don't worry, it's really not rocket science. Really. Follow steps below to kick start your journey with us.
Sign up a Kakitangan.com account
---
Sign up a Kakitangan.com account
Step 1: Sign up
a) Go to Kakitangan.com and click Sign Up.

b) It will direct you to this page, fill in all the details and click Create Account.

c) After you have successfully created your account, you will receive an email of confirmation. Click Confirm email address and you will be directed to the log in page.

d) Key in your password to log in.


Step 2: Try out our different modules
a) After you have logged in, feel free to explore all the modules!

b) After you have explored the different modules, come back to dashboard and click Mark this step as complete.

Step 3: Complete Profile
a) Click at Complete Profile

b)Key in all your personal details and save.

Step 4: Configure settings
a) The settings here will show up based on the modules that you subscribed. Feel free to set it up now or do it later.

Step 5: Let's Go!


After you have clicked Let's Go, it will lead you to this page. This is the dashboard page which allows you to get help, view guides, view different modules' data and make changes to your system as an admin.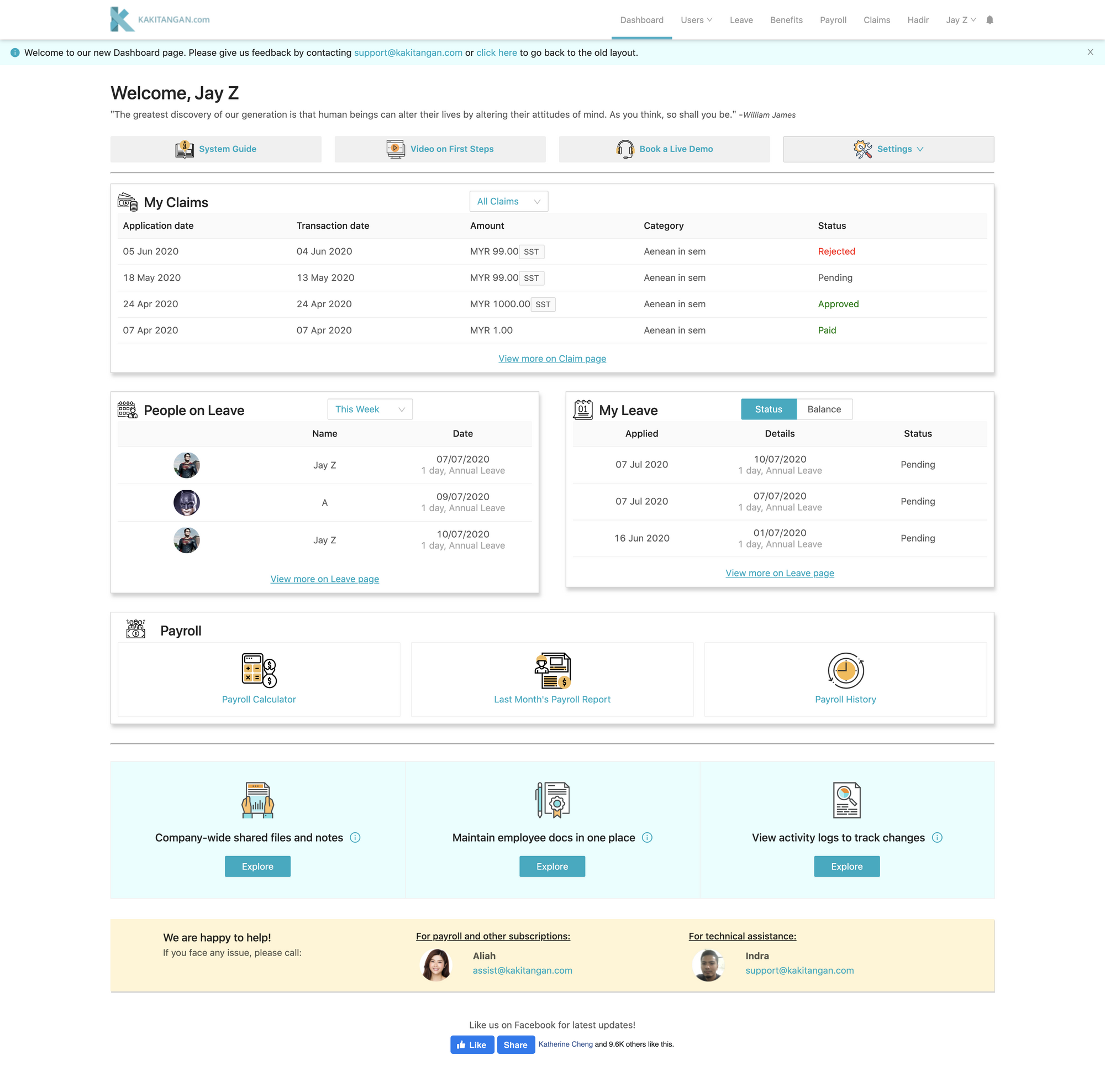 ---
Setting up company settings
Find Company settings at the top right corner under Settings :


In this page,
Company name is already filled in when you first sign up.
Fill in Company Registration Number if you are planning to make salary and statutories payment via our system.
Logo is for company's logo and it will appear in payslip.
Location(s) is for you to select the location(s) that your company is working in.
Users having HR permission is for users to manage employees' leave and also their personal information. Feel free to assign another user, there is no limit to it!
Users receiving all notifications is for users that wish to be notified via email for leave related emails.

Set the working days for your company here.
Public holidays apply means if public holidays are applicable to your company, feel free to disable it if your company does not observe any public holidays.

If you do not wish for your employees to edit their own personal information, feel free to disable it here.
After you are done with setting up company settings, make sure to hit the save button!
---
How to add your employees
1a) Go to Users tab

b) There are two ways of adding your employees, (1) is adding them one by one and (2) is adding them via batch import.

c) To add them one by one, select Add Single Employee and it will lead you to this page


d) Fill up all the details and you can choose to Send invitation email to the employee now or later. After that, either click Save and Add Another Employee or Save Employee.
(2a) To add employees by batch, select Batch Add Employees and it will lead you to this page:

b) Download the Template and fill in the fields according to the Instructions tab.

c) After you have filled in the data, save it as csv format and upload it in the same page that you have downloaded the template.
If you encounter any issues while uploading the file, feel free to email to support@kakitangan.com and we will assist you!