Don't worry, it's really not rocket science. Really. Follow steps below to kick start your journey with us.
Sign up a Kakitangan.com account
---
Sign up a Kakitangan.com account
Step 1: Sign up
a) Go to Kakitangan.com and click Sign Up.

b) It will direct you to this page, fill in all the details and click Create Account.

c) After you have successfully created your account, you will receive an email of confirmation. Click Confirm email address and you will be directed to the log in page.

d) Key in your password to log in.


Step 2: Select the modules you are interested in
a) After you have logged in, feel free to select the modules that you are interested in and click Next!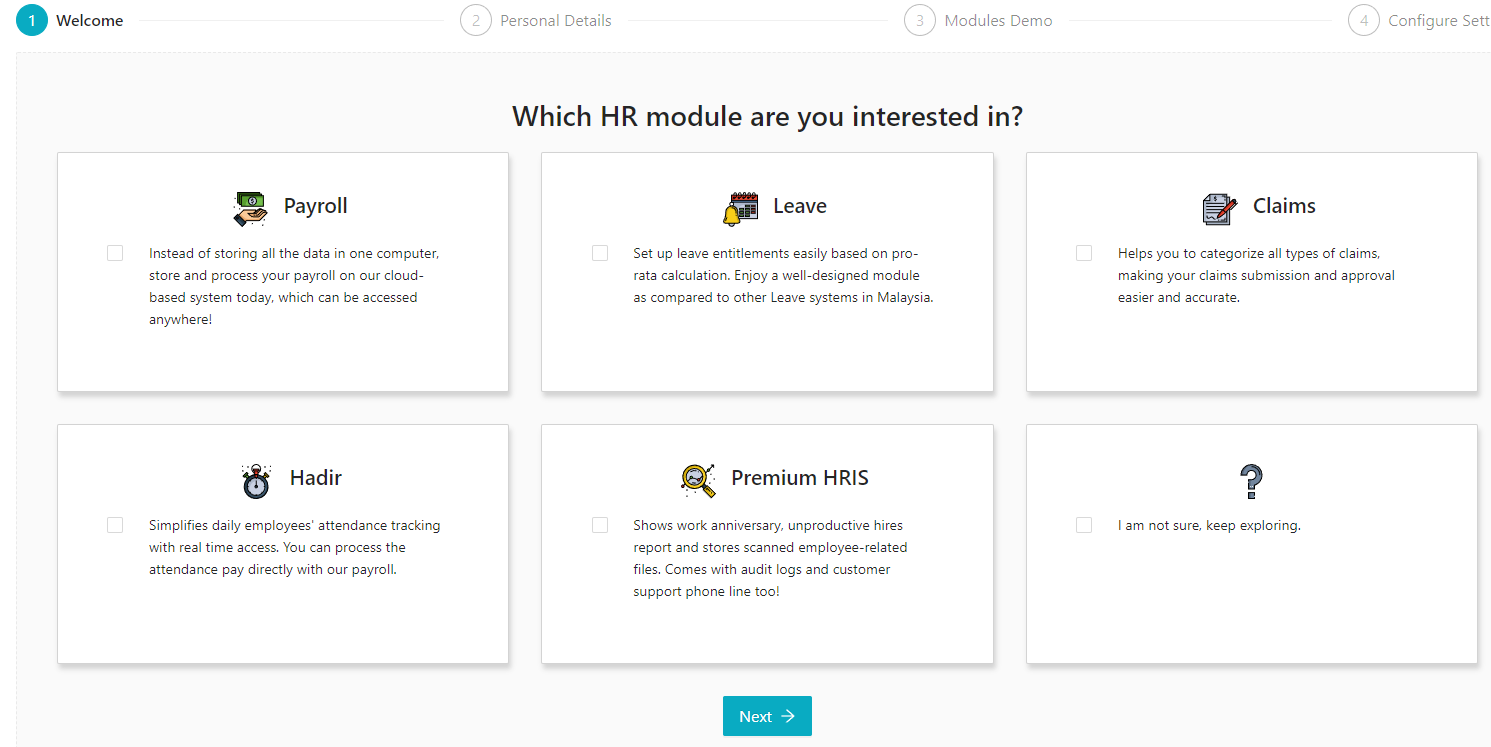 Step 3: Fill in your personal details
Key in all your personal details and click Next.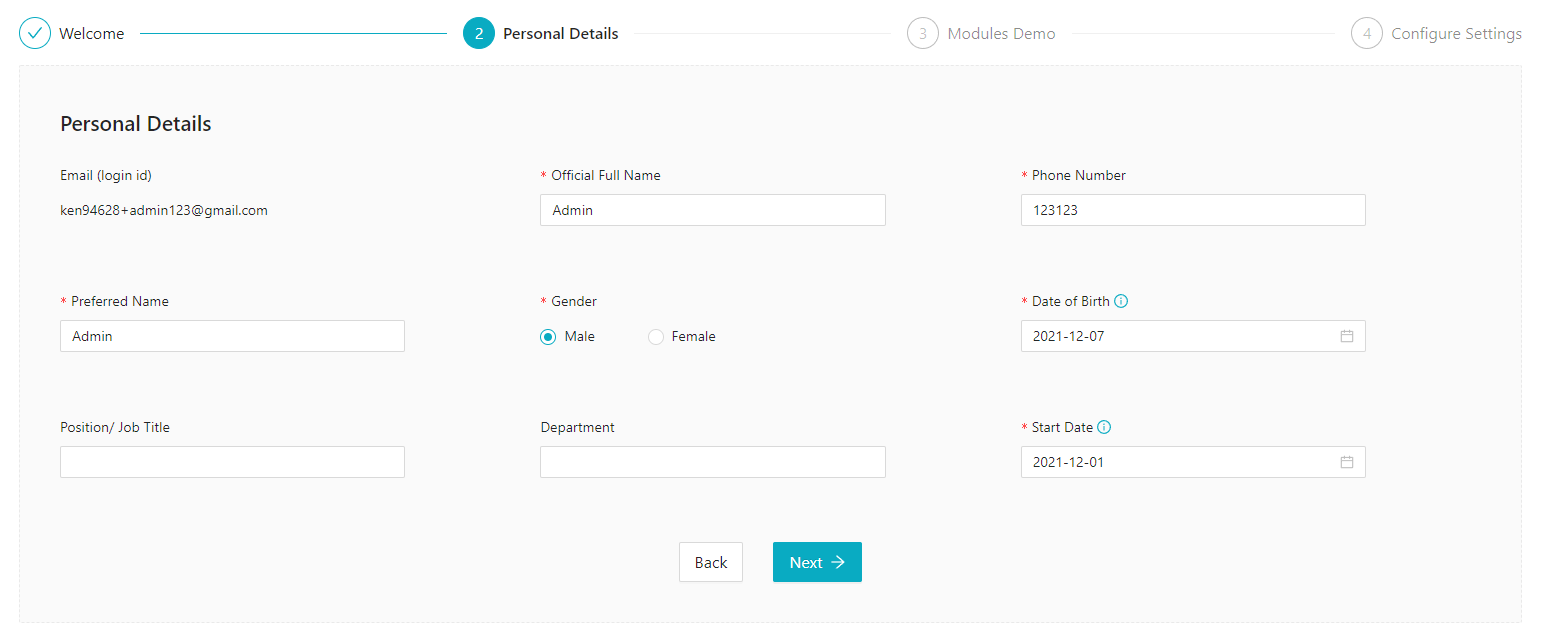 Step 4: Checkout the modules demo that we have prepared
We have prepared the gif demos to help you understand the system better, feel free to check it out!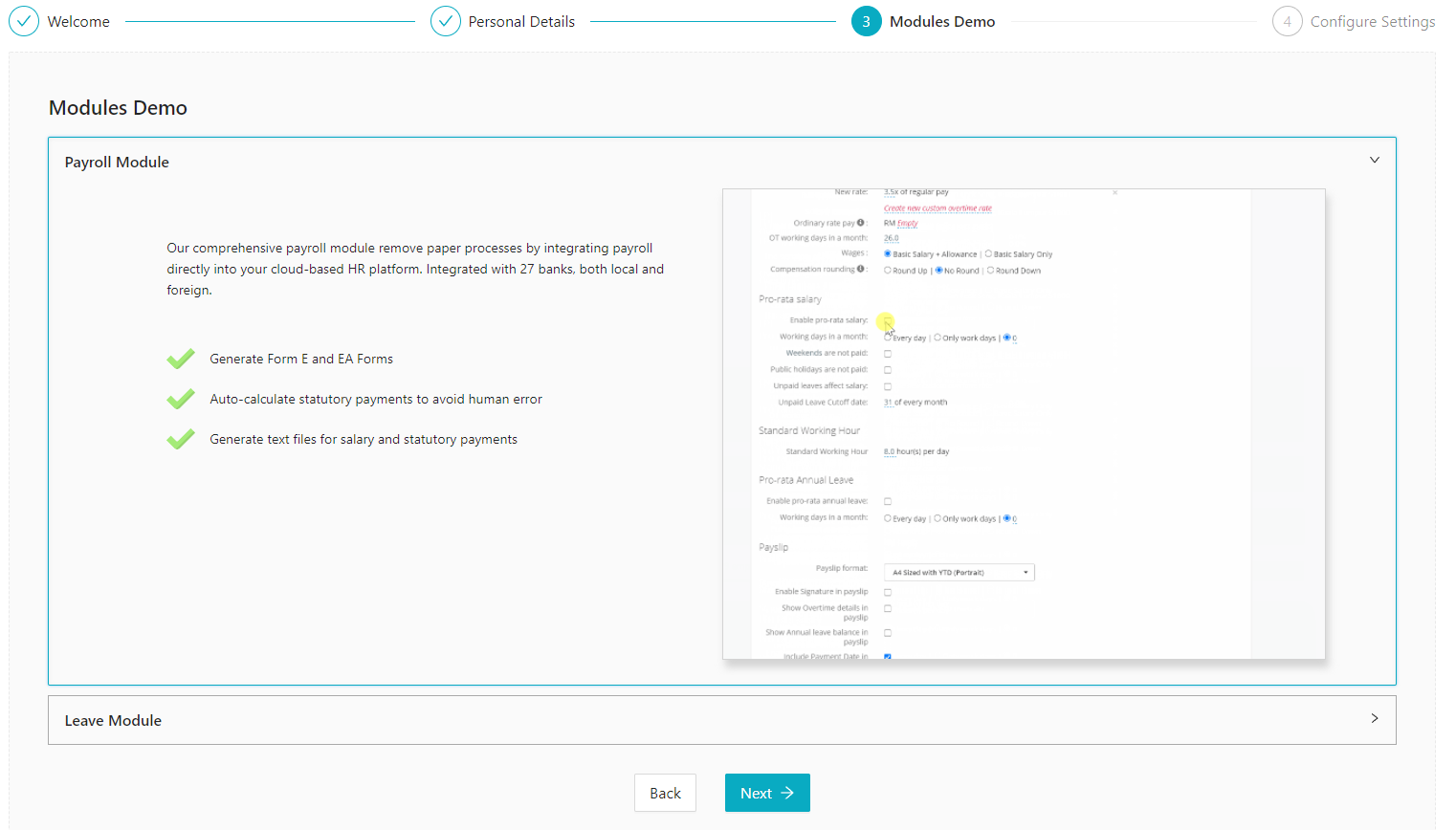 Step 5: Configure settings
These are the more commonly used settings for each module and if you would like to have more settings, feel free to explore the specific module's settings.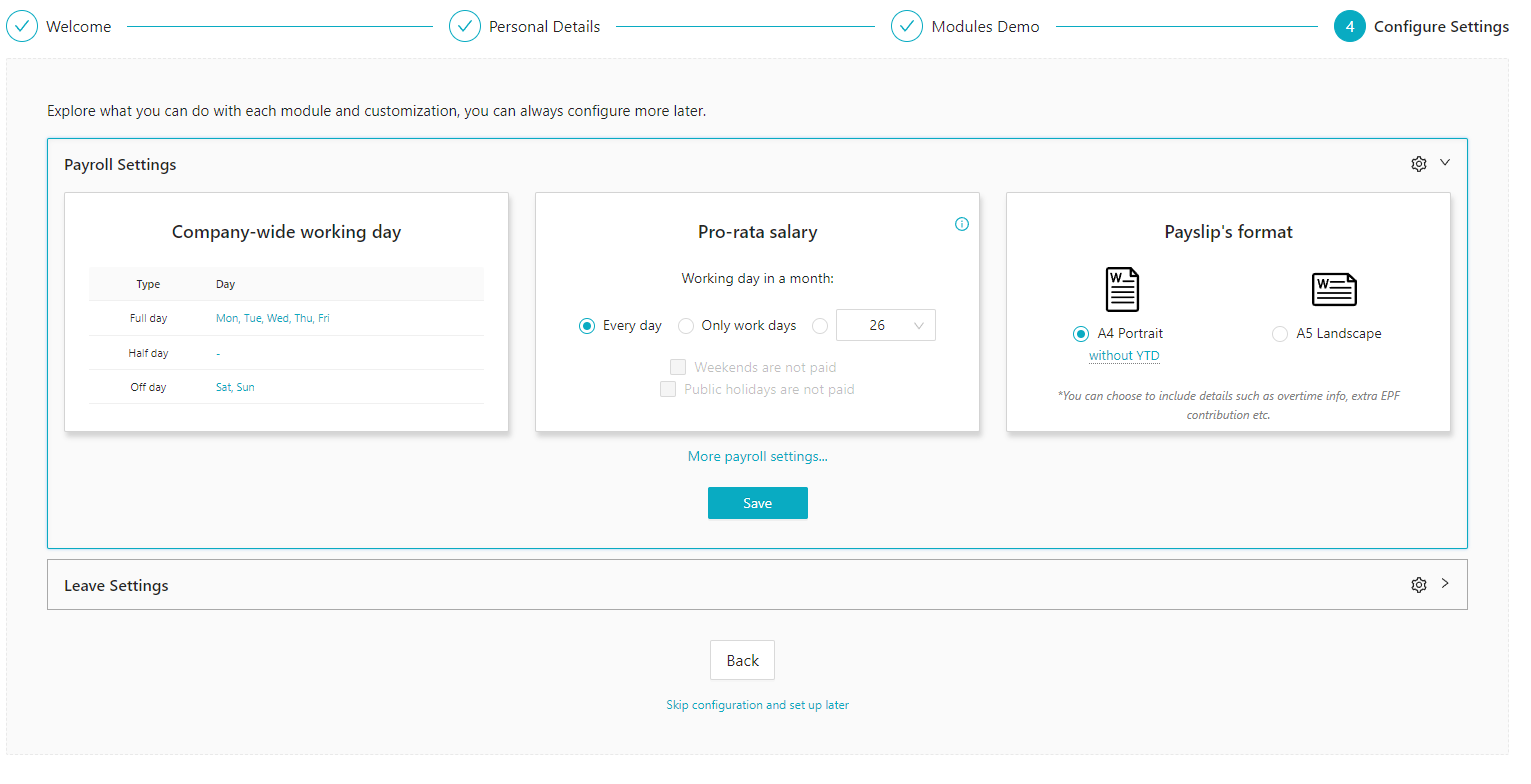 If you wish to skip it, it is totally fine too!
Click Complete after you are done.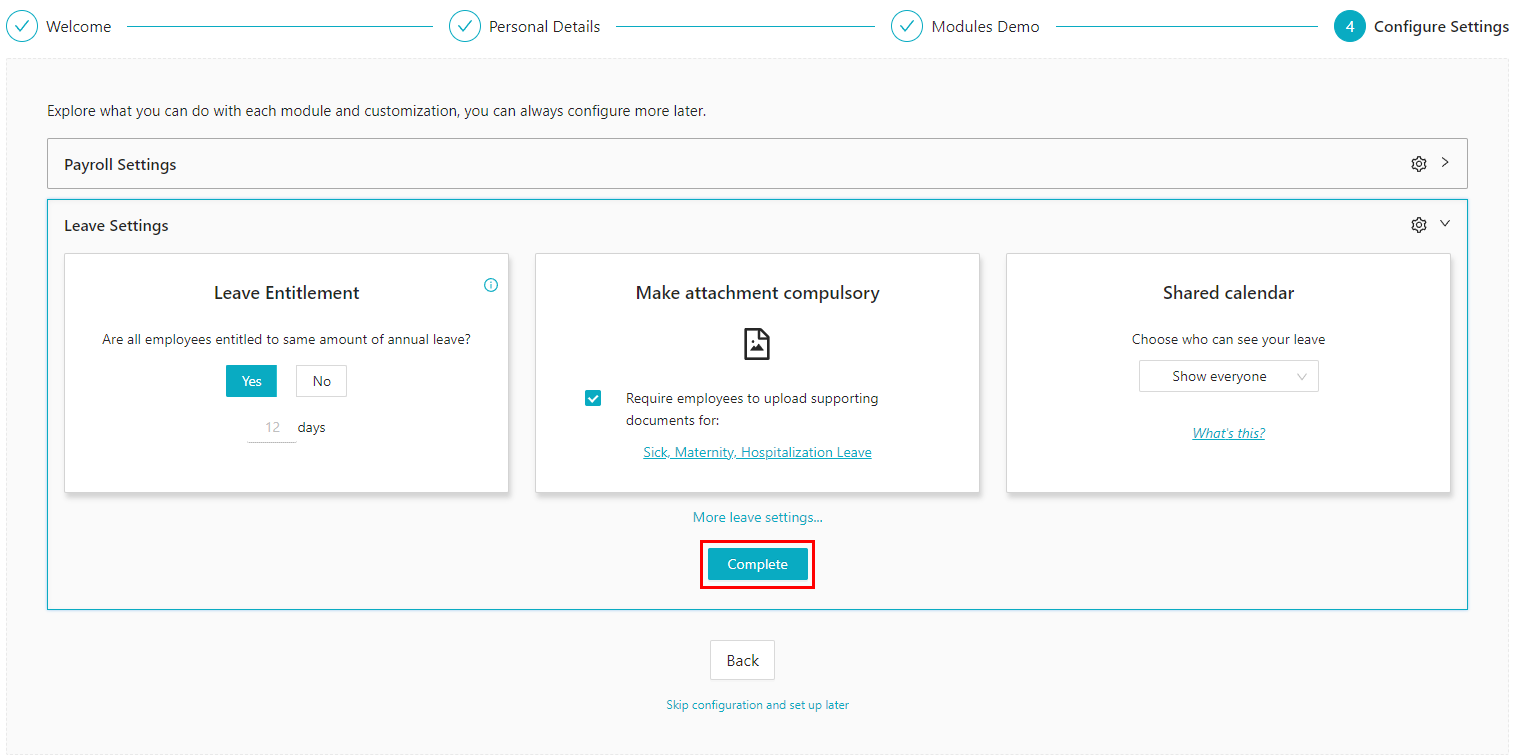 After you have clicked Complete, it will lead you to this page. This is the dashboard page which allows you to get help, view guides, view different modules' data and make changes to your system as an admin.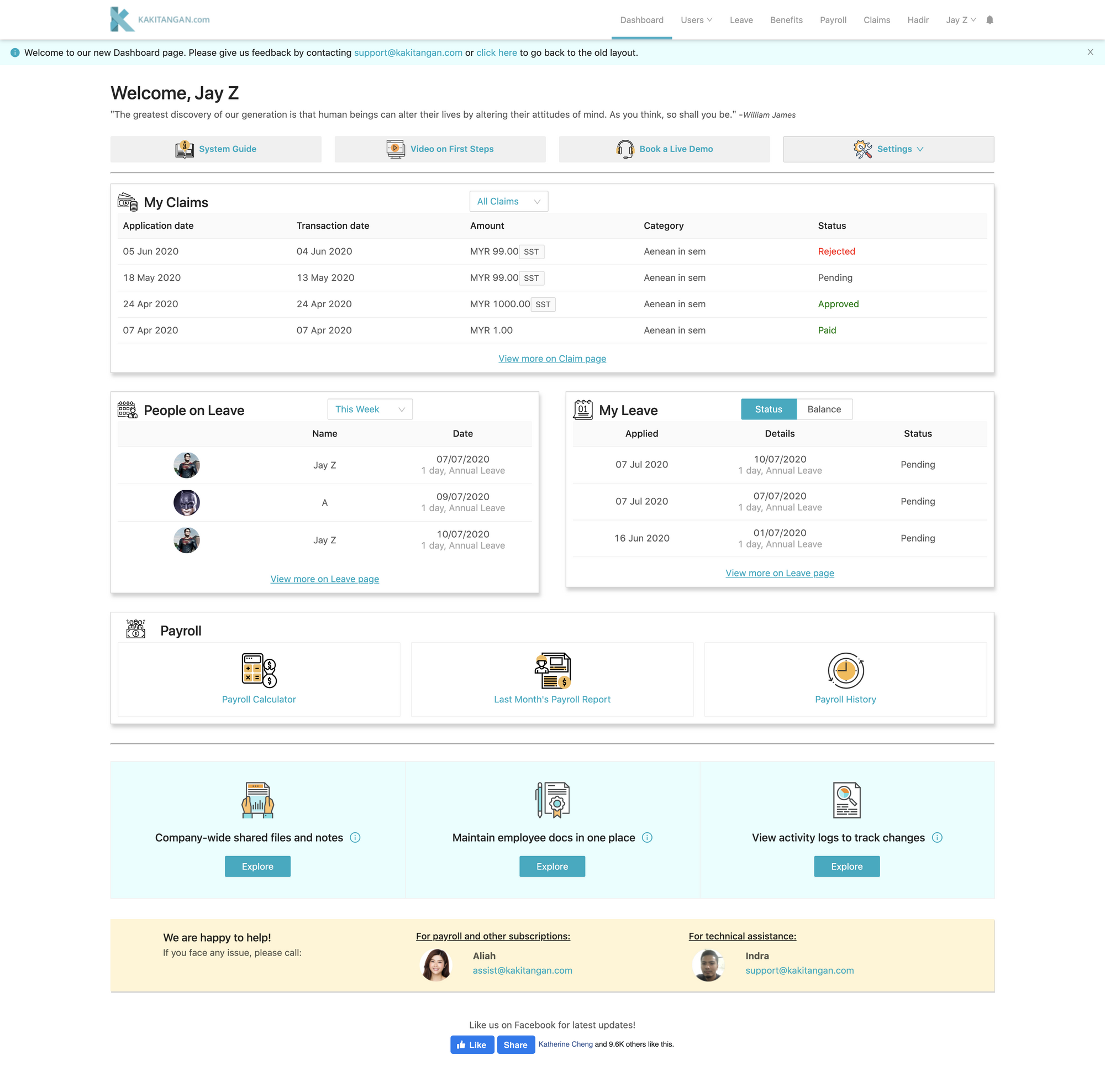 ---
Setting up company settings
Find Company settings at the top right corner under Settings :

In this page,
Upload your company's logo here and it will appear in the payslips as well.
Company name is already filled in when you first sign up.
Fill in Company Registration Number if you are planning to make salary and statutories payment via our system.
Location(s) is for you to select the location(s) that your employees are working in. It will be used for both leave (public holidays) and payroll (pro-rated salary) purposes.
Primary address is the company's address.
Primary phone number is the phone number of the company.
Setup the working days for your company here.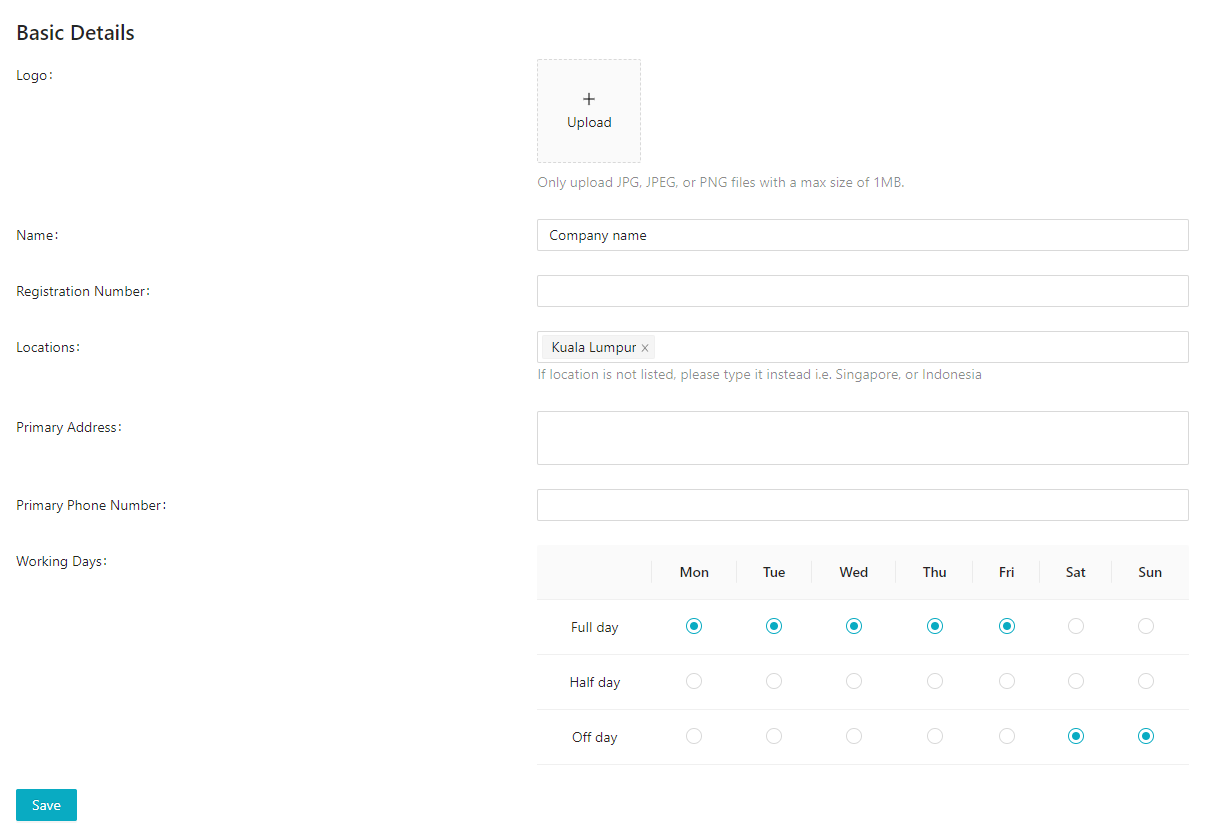 After you are done with setting up company settings, make sure to hit the save button!
---
How to add your employees
1a) Go to Users tab

b) There are two ways of adding your employees, (1) is adding them one by one and (2) is adding them via batch import.

c) To add them one by one, select Add Single Employee and it will lead you to this page


d) Fill up all the details and you can choose to Send invitation email to the employee now or later. After that, either click Save and Add Another Employee or Save Employee.
(2a) To add employees by batch, select Batch Add Employees and it will lead you to this page:

b) Download the Template and fill in the fields according to the Instructions tab.

c) After you have filled in the data, save it as csv format and upload it in the same page that you have downloaded the template.
If you encounter any issues while uploading the file, feel free to email to support@kakitangan.com and we will assist you!
NEW: We have prepared some videos for onboarding! Take a look here.