A Time and Attendance module from Kakitangan.com - Hadir.
Hadir, time attendance dashboard provides business leadership with optics into shift-by-shift attendance behavior in real-time, making it easier for business leaders to spot employees' attendance. You can easily sort through which shift you want to view, and you can quickly identify attendance check-ins and dive in for a detailed view of each employee in the workplace.
---
1) How to create shift
1.1) Set up time, day and date
In order to monitor the employee work shift, the administrator will need to create the work shift from Shift Scheduling -> Create Shift. This feature is available for administrators to simplify the shift creation process.
A) The administrator able to create shift by clicking on New Shift to create on the right top

B) The administrator is required to fill in the details with star (*).
C) The administrator can name the shift eg (WFH Shift A), setup clock in and clock out time, set up the validity date, and giving some extra description for the shift. The final outcome should look like this.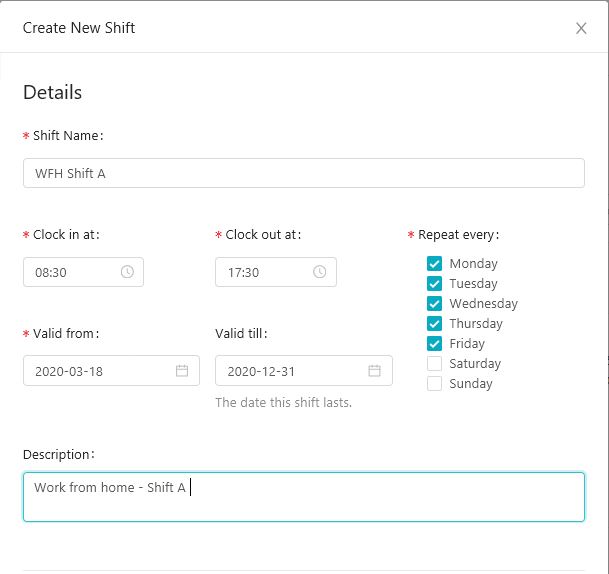 1.2) Set up the Pay rate
After above details are filled in, the administrators may scroll down and fill in the compensation, allowances and overtime.
Standard pay rate - Base pay rate multiplier for this shift. Eg: Pay rate is 1.0
Allowances - Meal or shift allowances amount for this shift. Eg: Meal allowance is RM100
Overtime pay rate - You may choose the pay rate multiplier for this shift. Eg: OT pay rate is 1.5
Maximum Overtime Duration - You may limit the overtime duration for this shift. Eg: 180 minutes
Note: OT rate is customizable under our payroll settings.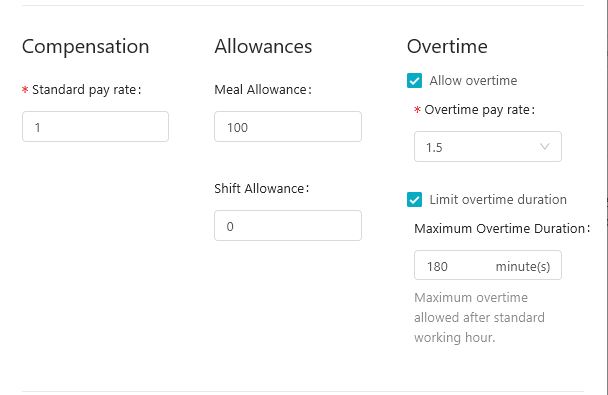 In the event of the paid rate, the Administrators are able to set the pay rate of their employees. Like the compensation rate:
Normal Pay rate: 1
Penalty Rates (Aus): 1.5x / 2x multiplier for all hours worked
Scenario A
One New Year Eve, Ali works on 8-hour shifts as a service crew for a further 2 hours. She is paid RM10 an hour.
The total pay is calculated as if no overtime occurs:
(8 hours x RM10/hour) = RM80
The penalty pay of RM10/hour in the example is then multiplied by the number of OT hours & the OT multiplier of 1.5x to determine her bonus OT pay:
$10/hour X 2 hours X 1.5 = RM30
Ali's total pay for the day is her base pay without OT plus the bonus OT pay calculated with the payrate:
RM80 + RM30 = RM110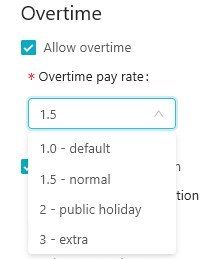 1.3) Locational Clock in
Hadir time attendance feature simplifies the daily employee's attendance tracking with real time access.
Hadir's real-time clock-in, clock-out with geolocation on Mobile app is designed to record employees' clock-in, clock-out and break time at the selected location(s). If an administrator creates a schedule for your (office) location, anyone in the team can clock-in/ clock-out via using the apps at the specific area only.
1.3.1) Turn on Locational Clock-in
To set up the feature, the administrators are required to enable locational clock-in. Once the feature turns on, it allows the employees to clock-in from the location set by the administrator.

Quick tip: Current radius is set at 200m.
1.3.2) Pin the location
After enabled, the administrator can search for the specific location for this shift. Once it pins to the right location, just clicks Add Location and then it is ready to go.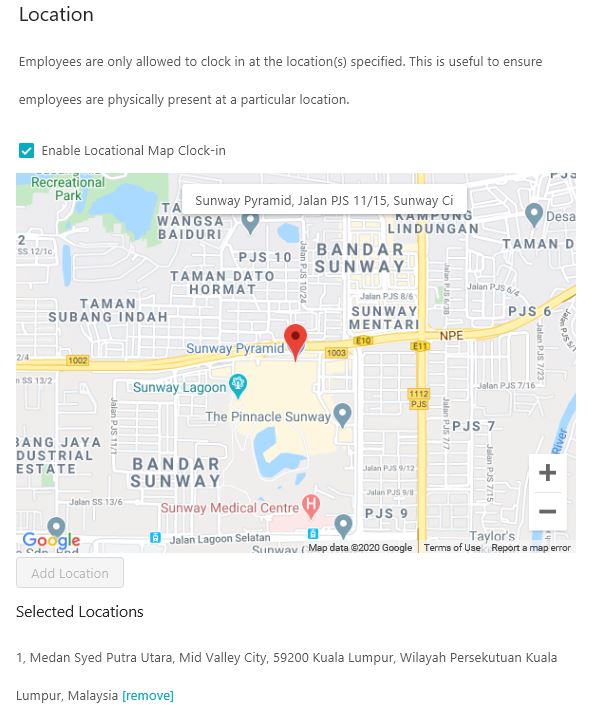 1.4) Complete the shift
To complete the shift by clicking Save and the dashboard should have all the setup details.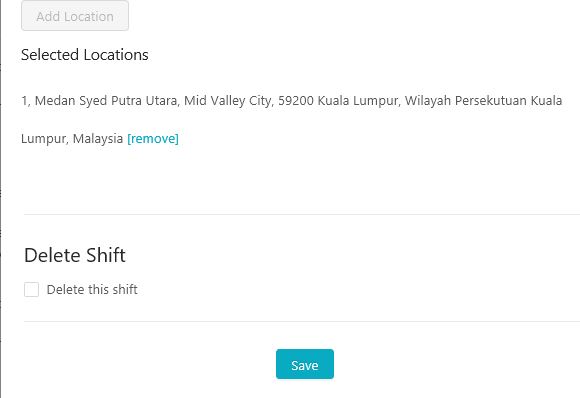 ---
2) Assign Staff
2.1) How to Assign Staff
After completing the shift creation, Assign Shift will be shown under the shift created. Click on it.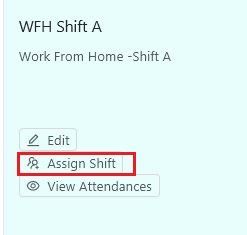 There will be a pop up screen like below where the administrator will need to assign staff for this shift.
Quick tip: You may double check the shift time and day here before you click on assign shift.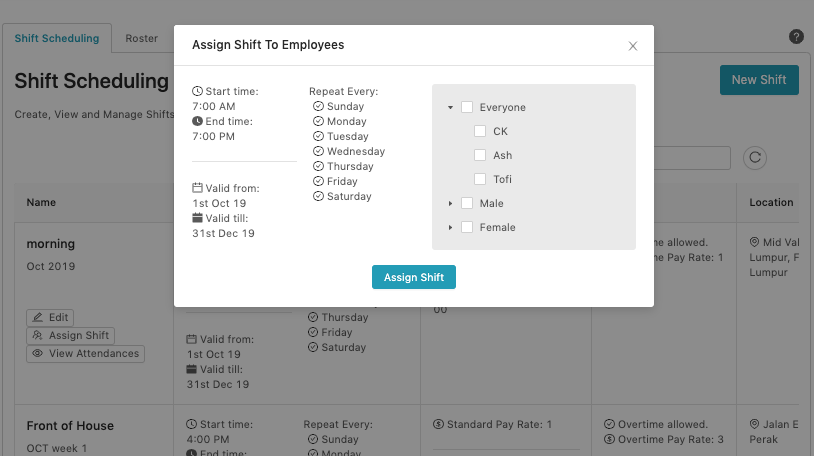 Once a shift has been assigned to the staff. On the Roster tab, the administrator will be able to select to view the roster as day/week and month or key in a specific date. A roster is a schedule of assigned shift.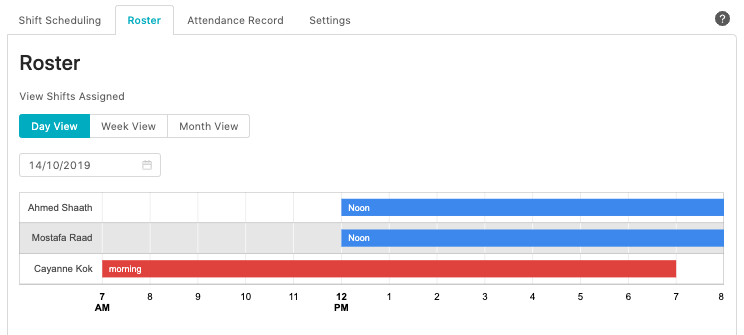 ---
3) Attendance Record
The administrators view employees' attendance at a glance in this page. There are some attributes make available for admin's editing. For example, edit shift, worked hours, OT hours, allowances, and etc. Including the import and export employees' attendance sheet.

Employees are unable to adjust timesheet and are only capable of viewing their own shifts only.
3.1) How to Edit Attendance Record
Here is the icon legend for easy reference:

Click on the pencil icon to amend or to adjust the shift.
Just in case, admin needs to make some adjustment on particular record :
Shift Name is editable.
Standard work hour is editable.
OT work hour is editable.
Allowances are editable.
Compensation rates are editable.
Quick tip: Once attendance record is approved and paid, you can no longer alter the attendance and shift.

3.1.1) Understanding the status of each attendance record
Auto Approved – Auto-approval function applied and this attendance has been approved.
Paid – This attendance has been paid via payroll
Approved – This attendance has been manually approved
Pending – This attendance still pending on actions
Rejected – This attendance has been manually rejected
3.2) How to Search Attendees
The administrator can filter the attendee by their name, shift, and clock in & clock out time. In the event the administrator wish to reset the setting, you can press revise button which is next to Export Data.

3.3) How to Edit approve, reject or revert attendence record
The administrators may approve or reject by clicking on tick or cross.
In the event that the administrators may want to revert the approval, they can click the anti-clockwise icon to revert the status.
Quick tip: If an attendance is paid (integrated with our payroll system), you can no longer alter the status.


3.4) How to Import and Export Data
In the event that you need to import data from your current time attendance devices, just click on the import on the right corner, and upload the CSV file only.
Also, if the administrator needs to export the attendance record, just click on the export date right below the import icon.

---
4) Settings
4.1) Understanding the role of an Administrator
What does the role of Hadir Admin could perform here, for example:
Create, view and manage shift
View all staff attendance report
Approve/disapprove attendance
View and manage Hadir's settings
4.2) How to assign/delete Administrator
The administrator selects a user from the new Hadir admin. By adding a new admin, the administrator can add by searching the person's name.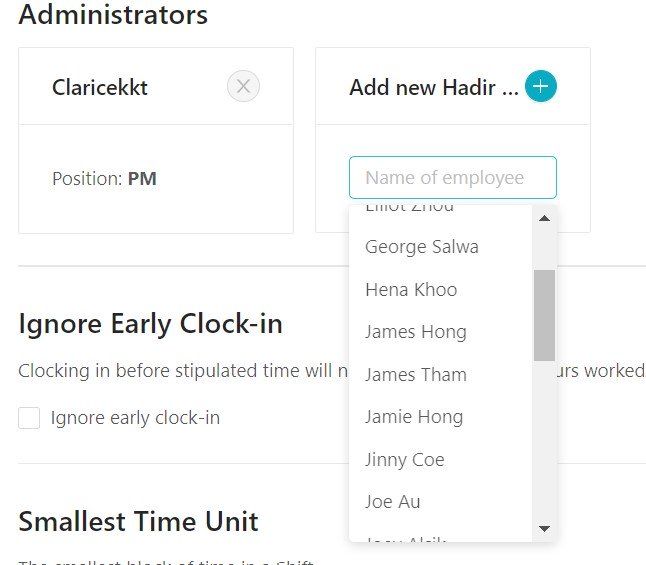 4.3) Understanding Ignore Early Clock in.
Scenario A
Normal Workshift:
Clock-in:9.00am
Clock-out:5.00pm
Working hours: 8.00 hours.
Employee A:
Punch in at 8.15 am and punch out at 5.00 pm, this employee total work hour = 8 hours and 45 minutes
Ignore early Clock in does not count on the time you start before your normal working hour, in this case, the employee A working hours are 8 hours only.

4.4) Understanding Smallest Time Unit and Round Policy
Smallest time unit is the



Rounding Policy:
The rounding policy is to round up or round down or no rounding when it comes to work extra hours.


Scenario A
Ali works on 8 hours shifts as a service crew for a further 42 minutes. His total working hours are 8 hours and 42 minutes. Below is the summary of the Smallest Time Unit and how to rounding Ali extra work hours

4.5) Understanding the Auto-Approval
We are proud to present this feature which it will save up your time and some manual work for example marking and approving attendance one by one. As long as criteria below are met, you will an auto approval takes place on the attendance record.

---
How to streamline within the system
In order to integrate the system, please go to
A) Payroll -> look for Settings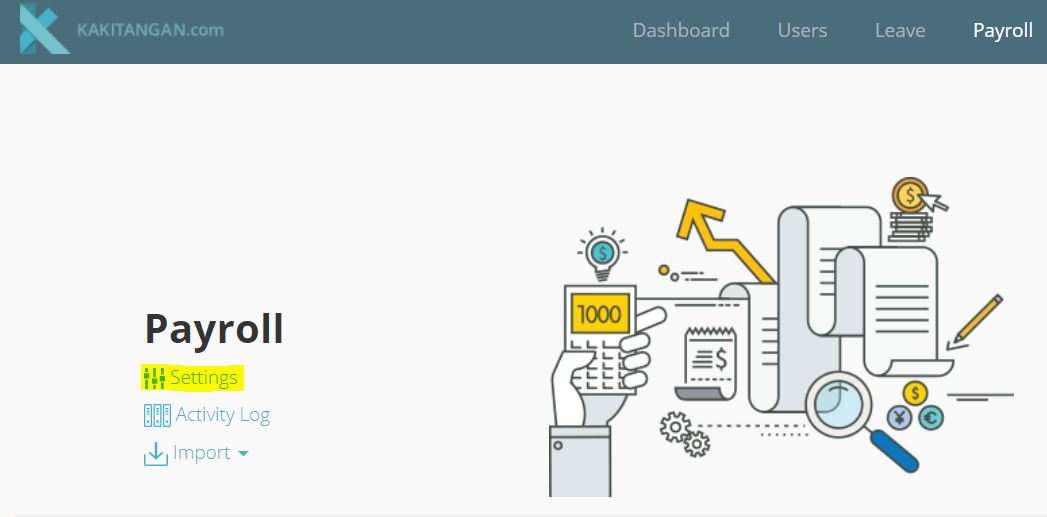 B) Settings -> Hadir Time Management
Tick enable auto-link Hadair time management with payroll
Note: If it's your first time linking this service and wanted to check how it works to link with the payroll, you can always reach out to our onboarding team. Suggest to test it after your monthly payroll has conducted.

C) Go to Users page >"select user name"> Compensation
Tick yes to Enable Pay by attendence

---
Mobile version
The mobile verson is mainly for an employee to clock in and clock out.
Clock-in = punch in,
clock-out = punch out,
Start Break = punch out for break
End Break = Punch after the break
Clock in time and date will be captured and shown on the screen. ---
Selfie clock-in
Another way to clock-in via our Kakitangan app is via Selfie. Go to Hadir and under Shift Scheduling, click New Shift or click Edit on the existing shift, scroll down and look for Selfie and tick Make selfie mandatory while clocking in.

After the setting is enabled, when employees click Clock In in the mobile app,

Take a selfie button will show up, click on the button to take a selfie.

After you have taken a selfie, the buttons will change to Clock Out and Start Break.

With this, you have successfully clocked in via selfie!
For admin to check the selfie taken by employees, go to Attendance Record and click at + to expand and view more details. If selfie were indeed taken, the download button will be shown and admin can download to view the selfie.

Hope it helps you to understand more about Hadir.
Stay tune, we have more features coming for Hadir!